For all of those who follow my Facebook page – https://www.facebook.com/pages/Deborah-Burrows-Author/169106739823360?ref=hl or my twitter account – https://twitter.com/BurrowsDeborah – you already know that I'm going to be living in England for 2 years. In Oxford to be precise, well in a village called Iffley about a mile south of Oxford to be precisely precise.
My clever husband, Toby, has been awarded an EU Marie Curie Incoming Fellowship to study the collection and dispersal of a huge collection of manuscripts: http://www.news.uwa.edu.au/201403266528/awards-and-prizes/medieval-manuscripts-go-digital-prestigious-european-fellowship
So, after much travail, due mainly to the visa application process here, I arrived 12 days ago. This is the view from my study, which I've set up in the second bedroom of our cottage:
The cottage is one of a row of around eight, all built in the late Victorian period, between around 1870 and 1890. It's very cozy, with two bedrooms, a modern bathroom and kitchen and the pretty garden you can see above.
Iffley is a lovely little village, although it is really a suburb of Oxford now, it has retained its village feel. It has an amazing church, built in 1175 – a date that seems inconceivable to an Aussie like me. Past the church is the Iffley Lock, mentioned in Three Men in a Boat. It's very pretty, too.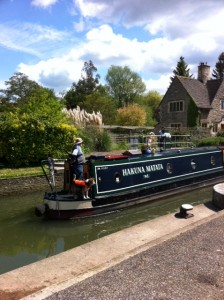 Note how the dog is wearing a life jacket, and not the humans…
Anyway, I've started writing and will update my progress soon.