Happy Saint Monday, everyone, for yesterday! Saint Monday is the tradition of being absent from work on a Monday. It was common among craft workers since at least the seventeenth century, before workers gained the boon of regular weekend off work. Yesterday was another bank holiday here, so everyone was enjoying Saint Monday.
Today, though, I was up with the lark, writing down a passage that had come to me as I was waking. I've set up my desk in the bay window of our bedroom, which is on the first floor and overlooks the road. There is something therapeutic about being able to watch people as they hurry along the road, or walk the dog, or take the children out. It makes me feel connected to the world. I told Toby not to move me back into the spare room (where the window overlooks the garden) for the time being.
We moved the desk because we had our dear friends Mark and Joanna over on Sunday night. They are in England for about six months, living in Kent. It was a lovely weekend. They drove us into the Cotswolds on Sunday afternoon and we spent a rainy Bank Holiday Monday taking in some Oxford sights, namely the wonderful Oxford Natural Science Museum and Pitt Rivers Museum, which is dedicated to anthropology. Also the hard to find (unless you've lived here) Turf Tavern and the Queens Coffee house (purported to be the oldest in Oxford).
The Natural Science Museum is just gorgeous, a Victorian Gothic treat filled with all sorts of displays, including dinosaurs. Because it was a rainy day, all of Oxford seemed to be there, with their children. Maybe I'd have been more scientifically inclined if I'd had a museum like this one to go to.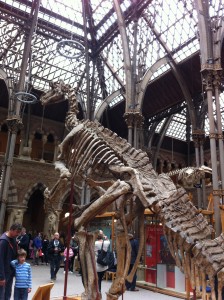 And it has the Dodo, poor thing: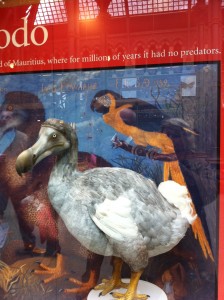 I find the Pitt Rivers museum both overwhelming and astonishing. I just love its higgledy-piggledy charm. Artifacts are arranged by function, not by geography or culture: here there may be a case of musical instruments, from Thailand to Namibia to Finland, and there cloaks and clothes from the American Indians to the Maoris. Toby was much taken by the case of musical instruments from around the world. Everyone's favourite is the case called "Treatment of Dead Enemies" – full of decorated skulls and shrunken heads! (Ugghh).
The Turf had this notice up: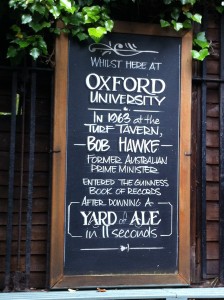 You could pick the Australians – they wanted to be photographed in front of it!!
The Cotswolds on Sunday were a treat. We stopped at the village of Lower Slaughter and the market town of Stow on the Wold, two really beautiful places. We had tea by the river at Lower Slaughter.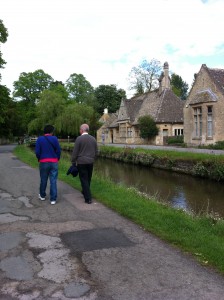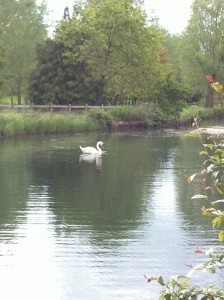 It's all grist for the mill of my imagination. Speaking of mills…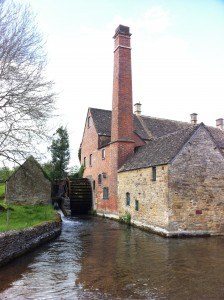 And we wandered around Stow-on-the-Wold in the late afternoon, when the light was soft on the honey-coloured stones.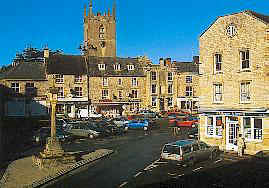 We're gradually settling into a bit of routine – I'm becoming heavily involved in my research into England and World War 2, and transmuting it into fictional "gold" (we hope), while Toby is trying to get his head around an Excel spreadsheet which lists more than 11,000 sales of the medieval manuscripts he's investigating.
Saturday night saw Toby achieve one of his (minor) musical dreams when we went to see the Undertones at the Oxford Academy. They're an Irish punk/pop band from the late 70s/early 80s, who re-formed a few years ago to replay their energetic, tuneful and amusing songs about daily life in Derry. It was great fun! We had a drink in the Library pub beforehand – very apt.
On Wednesday, we went up to London on the bus so that Toby could complete all the formalities for becoming a staff member at King's College. He should get e-mail access and his staff card later this week (finally). We had lunch in a converted shipping container on the South Bank, done up like a Mexican cantina (with Polish and Irish staff).
We also walked around Regent's Park checking out settings for the next novel – beautiful roses and poppies, and very green, but terrible for hay-fever!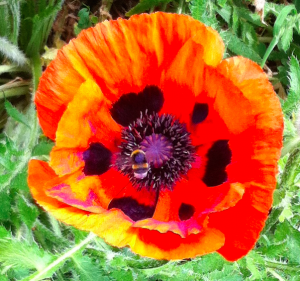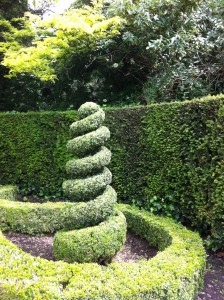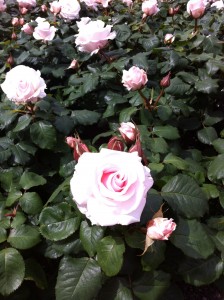 While we were there we met an Ent: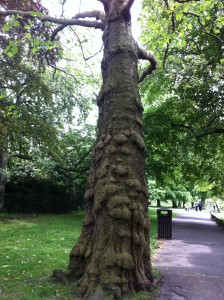 So all is well over here in Iffley. Next post I'll show the beautiful route we take into Oxford along the Isis River.