It's been an eventful two weeks, and I've not had a chance to email anyone or update the blog.
In the week commencing 26 May the Oxford Colleges were preparing for and then participating in Eights Week, a major event in the Oxford calendar. Eights Week is the annual rowing competition between the Colleges and it's held on the Isis, just down from Iffley Lock. We strolled down to the river to watch a fair few races, barracking mainly for Linacre College, of course. Only Linacre wasn't in the Head of the River – the races between the Colleges elite First Division Eights.
Being Oxford, the rules of Eights are almost impossible to understand, but I think they go like this: each College can have one boat in each division, and there are male and female divisions. At least twelve boats participate in each race and there are three races held on consecutive days for each division. The objective is to 'bump' the boat in front. That's exactly what it is – you catch up to it and bump it, or the coxswain of the boat you've caught concedes rather than have you physically bash the boat.
The boats set off at intervals of 130 feet and the racing order is determined, firstly, by how successful you were last year, then by how successful you are in the first and second races. If you bump another boat in the first or second race, you then start ahead of them in the race following. The third race determines overall winner – for the First Division Eights it means they're "Head of the River", a great honour for the College.
We watched Oriel bump Pembroke in the second race which meant Oriel was first in the final and as it couldn't be caught, it was Head of the River. Oriel is a major player in Eights – it seems to have won most of the past decade. Here, the boat in front is about to be 'bumped':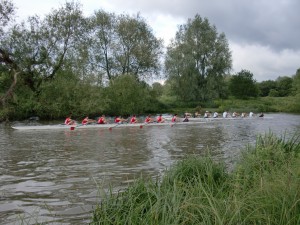 It's great fun and very exciting when a boat is catching up to the one in front, which is frantically trying to outrow them. And it was amusing to see the big beefy boys in the boat being yelled at by a tiny girl cox.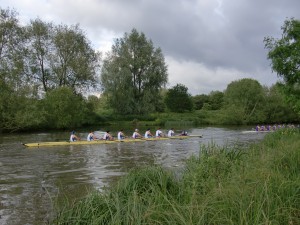 Here are a girls eight about to commence a race: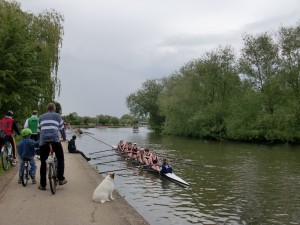 In fact, I got 'bumped' myself. We were walking along the towpath on Saturday morning, watching a race and a voice behind me said in a very plummy accent, 'Sorry, wolf coming through.' And I was bumped into by a young man in a huge wolf costume, presumably supporting Wolfson College. He had very soft fur…
A those who follow me on Facebook know, on Wednesday 28 May we drove over to Bletchley Park and thoroughly explored the mansion and the restored huts where the code-breakers were housed during World War Two. It's pretty well accepted that the work done at Bletchley to break the German Enigma and other codes shortened the War by two to four years. It's an amazing story. They had to hide the fact that Enigma had been broken, so the reports of German activity were given the appearance of coming from an MI6 spy, codenamed Boniface, with a network of imaginary agents inside Germany.
(The Brits were full of such tricks. To hide the importance of Radar in helping to win the Battle of Britain – Radar gave advance warning of the German bombers crossing the Channel – one story that was put out was that a special group of RAF pilots had been fed extra carrots and as a result had especially good night vision and could see the Germans coming!)
While this was pure fiction, the real network monitoring the Germans' every move was the 'Y' Service, a chain of wireless intercept stations across Britain and in a number of countries overseas, listened in to the German radio messages. The messages were then sent back to Bletchley Park (known as Station X) to be deciphered, translated and fitted together like a gigantic jigsaw puzzle to produce as complete a picture as possible of what the enemy was doing.
We saw a demonstration of the reconstructed Bombe machine, which effectively mechanized the code breaking tasks and was run by women.
Several of the huts have been restored to something like their wartime appearance, and it was easy to imagine Alan Turing, Dilly Knox and all the women – women outnumbered men 3 to 1 and were paid a third less for the privilege – beavering away in crowded and spartan conditions. It was freezing and in winter they worked in coats with mittens and hats.
Here's Toby impersonating Dilly Knox and I'm talking to ghosts.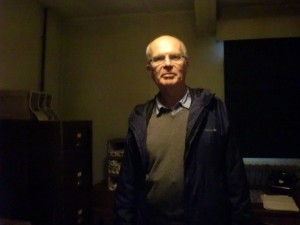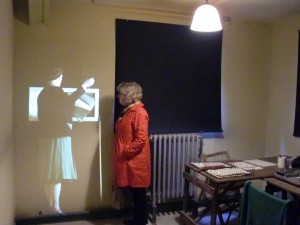 After Bletchley we drove in to Milton Keynes to attend a concert by one of Toby's favourite musicians, Julie Fowlis. She sings Scottish Gaelic traditional songs and plays the tin whistle. Toby met her briefly afterwards and here's the photo to prove it!!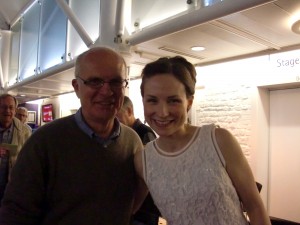 We spent all of last week in Toronto, Canada, where Toby gave a scholarly paper – which was well-received I understand! It was for a group called IASSIST – the International Social Science Data group. Toronto is a great place for shopping, so I had a lot of fun filling the gaps in my wardrobe.
Toronto is a big city (6 million) and reminded me of Melbourne mixed with Singapore. The downtown area near Lake Ontario is almost entirely high-rise, with a network of shopping arcades running underneath the towers, called PATH. We walked it in its entirety one day and believe me, it's a long walk. We could imagine how important it would become when above ground was thickly piled snow. Another day we walked out of town to the trendy hippy neighbourhood of Kingston Heights and had vegan meals. One of them was with our friend Duc (who has the distinction of being even shorter than me – go Duc!!) – here's a photo of Toby and Duc outside the Vegan restaurant we found.
This photo shows the Toronto Academy of the Arts: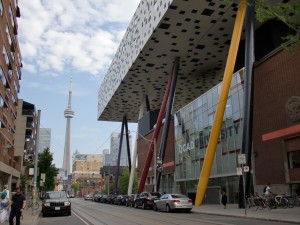 Yet another day we took the ten minute ferry ride to the Toronto Island Park which comprises five or six very pretty islands, sort of Kings Park on a lake. There were lovely views of Toronto from the ferry.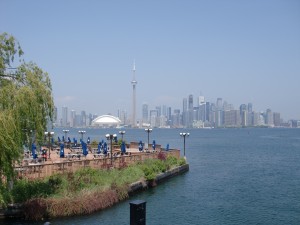 It's a bucolic place and it's easy to forget you're so close to Toronto – until you see the Skytower: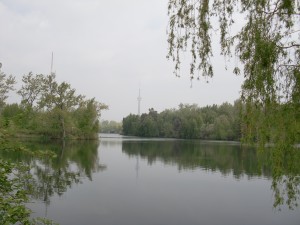 On Thursday we took a bus trip to Niagara Falls, which were spectacular,as you can see from the photos.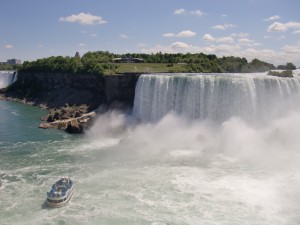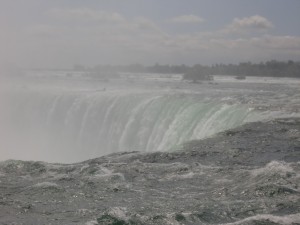 We took the Horatio Hornblower boat trip – formerly the Maid of the Mist, which was a much more evocative name – and went into the spray of the falls, all decked up in our red plastic ponchos.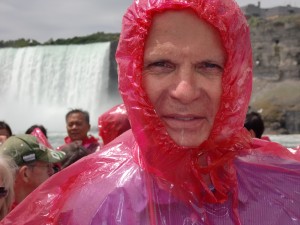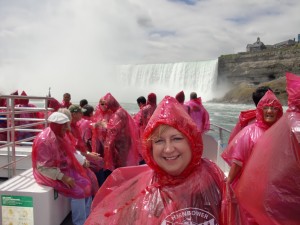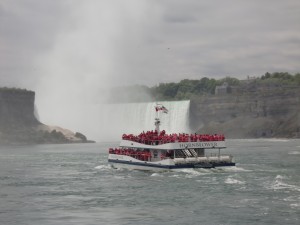 The town around the Falls, unfortunately, has fallen victim to its success. I remember visiting in the mid-eighties and the Canadian side was rather boring, but lovely with pretty gardens. Now the street up from the Falls is all themed amusement parks and cafes, including…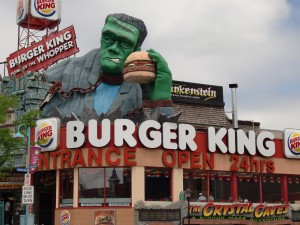 But at least some of the parks remain.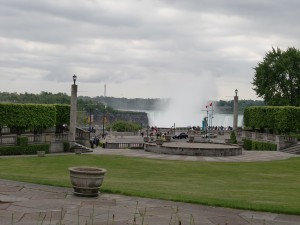 Next on the itinerary was a very pretty 19th-century town called Niagara-on-the-Lake. It was at one time the capital of Ontario and it is where the British defeated the Americans in the War of 1812. It burned down a few years later and was rebuilt and luckily it didn't get re-rebuilt which means it's very authentic place. Nowadays it's all tourist venues, unfortunately – you know the thing, Christmas Every Day shops, themed cafes, gift shops and ice-cream parlours. Toby and I had "Polar Bears' Paws" which were raspberry ripple and chunks of white and milk chocolate! Yum.
Surprisingly there's a wine industry in the district around Niagara, which produces a specialty wine, "ice wine". It's very sweet dessert wine. The grapes are picked after the temperature drops below minus 8 degrees. We bought a bottle, of course!