We spent the week in Lausanne, Switzerland. Toby was attending and speaking at a digital humanities conference and I was 'accompanying person'. Sadly for me, it was cold and wet all week. That should have meant I could spend time researching and writing, but I didn't do much of that. Instead I got a good dose of writer's block and read trashy novels instead.
The Swiss have a zany sense of humour. This is what the rubbish bins in Lausanne look like: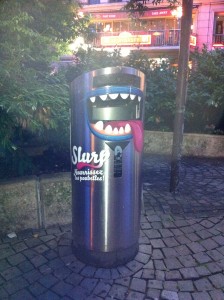 Tuesday night I had room service in Toby's absence, but on Wednesday night Toby and I went our for dinner to the very busy Cafe Romand, which dates from 1951 and is rather a Lausanne legend for its fondue and traditional dishes. We decided to pass on the suggested local delicacies of cervelle au beurre noir (brains in black butter), tripe, pied de porc (pork trotters) and had – of course! – fondue. I don't think I've had fondue since the 70s. Those of us who are old enough will recall that everyone seemed to get a fondue set for a wedding present or a 21st present in the late 70s.
The fondue served at the Romand was very, er, cheesy, but make no mistake, it was very tasty. I told Toby that the secret is to also order something sharp to cut through all the cheesy gloopiness, so we ordered sides of pickles and boiled potatoes and had a really enjoyable meal. This is a photo from the web; the restaurant was absolutely packed when we went: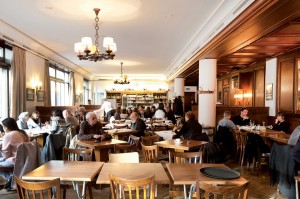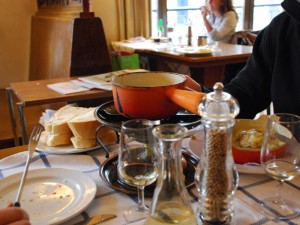 On Thursday night we met up with some of Toby's colleagues, to celebrate the amazing Deb Verhoeven's 50th birthday. We went to a really excellent restaurant, the Elephant Blanc, in the old part of town behind the Cathedral. We had the top floor all to ourselves (the table of Americans near us just up and left for no discernible reason) and my meal – sole with risotto – was excellent.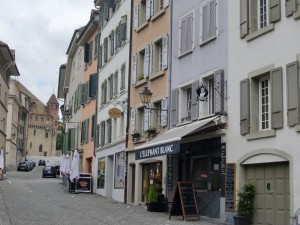 On Friday morning Toby and I were determined to take a cruise along the eastern side of Lake Geneva. We dodged rain showers as we went on deck to see the views from our beautiful ship, La Suisse, the flagship of the Belle Epoch fleet: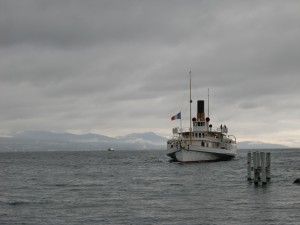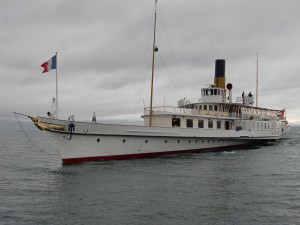 It is one of eight steam powered ships built between 1904 and 1927 by Sulzer Brothers in Winterthur. They've been beautifully restored. The engine is remarkable: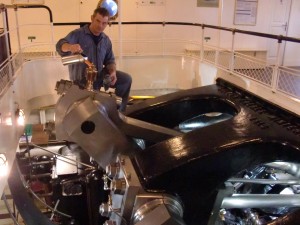 Here we both are, proving that we took the voyage: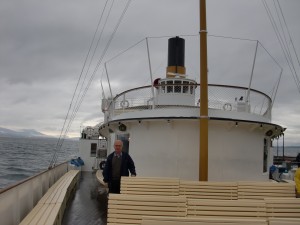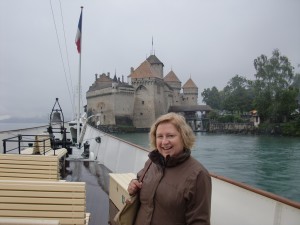 Lake Geneva is really lovely, although it was a shame about the weather.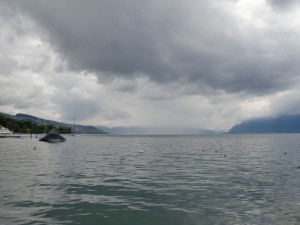 Nevertheless, we saw some pretty little villages on the lakeside, and terraces of vines: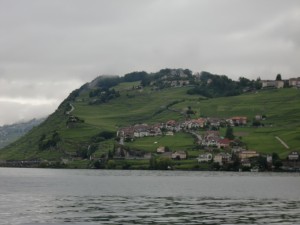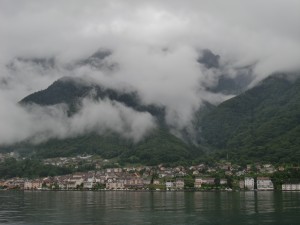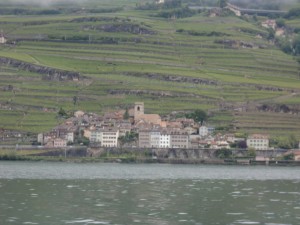 And even a medieval castle: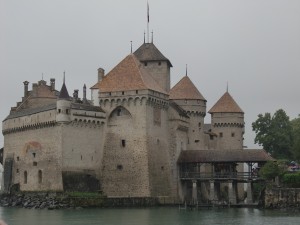 This is the sister ship of La Suisse, on her journey: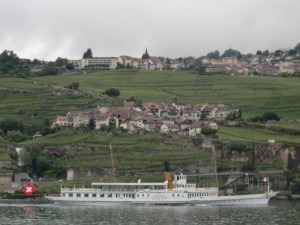 France lies directly across from Lausanne, specifically, the town of Evian.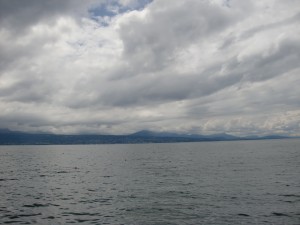 On Saturday morning we managed to climb the myriad stairs and hills of Lausanne to have a walk around the old centre of the town. It was a pleasant (if mainly uphill) walk.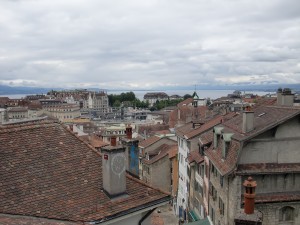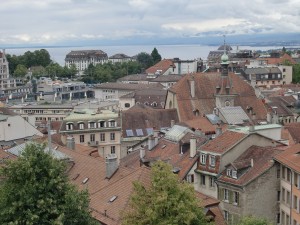 Is this the prettiest Police Headquarters in the world?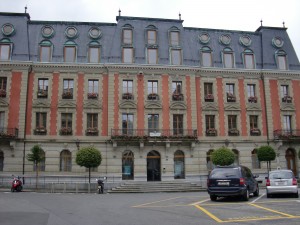 A weekly market had been set up in the streets and it was jolly to wander past little stalls with flowers, and spices and vegetables. And cheese! Amazing cheeses, Gruyere straight from Gruyere which is a couple of miles away; all sorts of cheese. The scent of them was heady.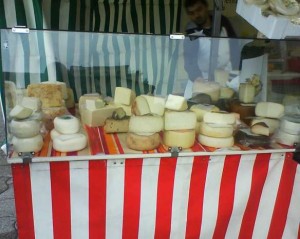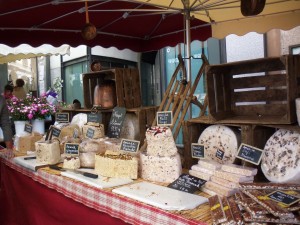 Where's Toby?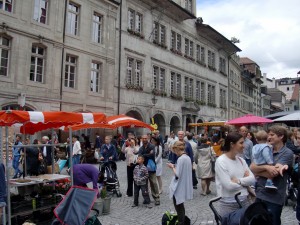 In the main square is a pretty statue of Victory: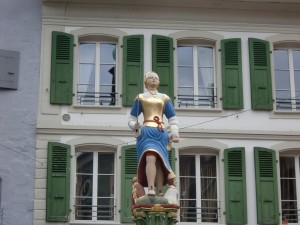 And of course, it being Switzerland, there is a clock behind her, a type of cuckoo clock, with figures that wind around to a sweet little tune.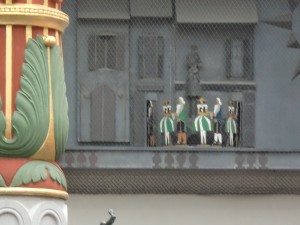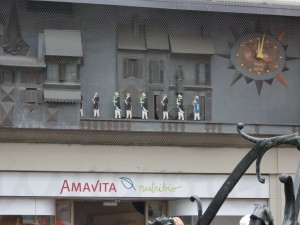 Switzerland comes in for a lot of ribbing about its cuckoo clocks, all because of the movie The Third Man, in which Orson Wells states:
"In Italy, for thirty years under the Borgias, they had warfare, terror, murder and bloodshed, but they produced Michelangelo, Leonardo da Vinci and the Renaissance. In Switzerland, they had brotherly love, they had five hundred years of democracy and peace – and what did that produce? The cuckoo clock."
/The Third Man (1949), by Carol Reed/
But maybe it's just jealousy for the peace, order and prosperity, which over the years Switzerland has established using a direct democracy.
I did manage to do some research, as I'd taken with me my new book: "Forgotten Voices of the Blitz and the Battle for Britain", which was written in association with the Imperial War Museum. It sets out quotes from those who lived through it all, not only the British pilots and civilians, but also German pilots who flew on the raids. I found it incredibly moving and interesting. I had to force back tears on the Swiss Air flight home yesterday, as I was reading about the human cost of the battles and the bombings.
This in particular I found amazing. Robert Grant-Ferris, a British MP and fighter pilot, was asked to move the loyal address at the opening of Parliament six weeks after the end of the Battle of Britain in 1941. The writer and diplomat Harold Nicolson (also the husband of Vita Sackville-West) had the perfect peroration (ending) to his speech, but was was unable to get it to Grant-Ferris in time for him to include it.
It is a poem, written in 1737 by Thomas Gray, who is well known for his "Elegy Written in a Country Churchyard".
The day will come when thou shalt lift thine eyes
To watch a long drawn battle of the skies
And aged peasants too amazed for words,
Stare at the flying fleets of wondrous birds.
And England, so long mistress of the seas
Where winds and waves confess her sovereignty
Her ancient triumphs yet on high shall bear
And reign the sovereign of the conquered air.
Amazingly prescient, given that it was written 200 years before the Battle of Britain, and way before humans took to the skies.
I've been reading novels written during the Second World War, to get a feel for the language and the sensibilities of the time. As I've said before, it is amazingly easy to get hold of any book you want here and I'd better be careful or I'll use up all of my savings in books!
And yet . . . one of the reasons I write historical fiction is because I enjoy the research so much: wandering through London working out what areas were bombed, cooking meals from a book called "The Ration Book Diet" to eat what my characters might have eaten, crying (or rather trying not to cry) over the personal accounts of bravery and horror, checking dry war histories to ensure that my dates and accounts of battles and bombings are correct, enjoying the exquisite phrasing of novelists such as Elizabeth Howard, Duff Cooper, Marghanita Laski or Patrick Hamilton as they describe their very real, very flawed characters, who lived in such a different England to the one I live in now.
We're back in Oxford at present and we're going to stay here for a while! I need to write and research and Toby is also going to be very busy. I'm happy to be home and very grateful that I'm able to call such a lovely place home.