It's hard to settle into writing a blog. When I do the characters in my new novel (who are a jealous bunch) clamour at the back of my mind, demanding attention. Scenes of wartime London intrude as I try to describe a lovely trip to the country, there is a vague unease that I'm not hammering out that plot inconsistency instead of sharing our visit to Towerseay, or describing the smell of a bombsite in just the right way rather than the scent of our Iffley garden after rain . . .
Oh, well. . . today is cold and wet and my characters are quiet, so I'll tell you about a few outings we've had lately.
On Saturday 9 August we joined our dear friends, John and Rosemary Payne for lunch at the national trust garden of Stowe, in Buckinghamshire. They are a stunning example of eighteenth century landscaping, the first project of Capability Brown. The house is now a very posh school, but the grounds belong to the National Trust.
When you arrive, you go down a very long driveway, at the end of which is a stunning Corinthian Arch. It's designed to tell you that this is a Very Important Place.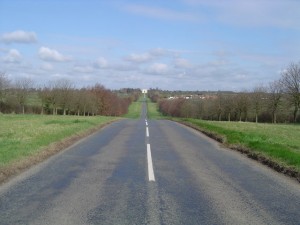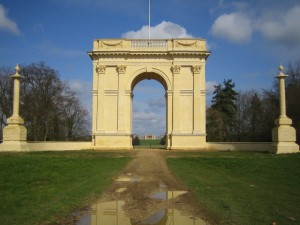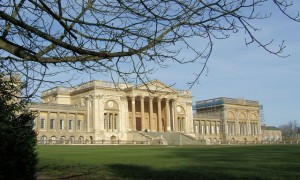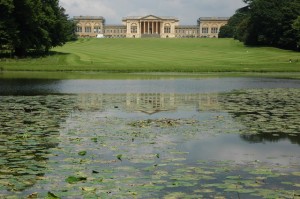 And here are two Very Important Visitors: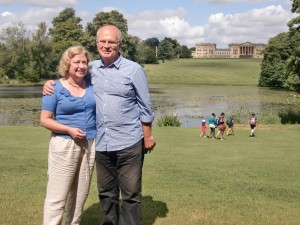 We wandered around the lovely grounds – 250 acres – while I pumped John about his childhood in the Liverpool Blitz and as an evacuee child in Wales. We had lunch in the cafe, finishing with ice-cream on the lawns, while I pumped Rosemary about her childhood in outer London during the war. They'd even brought me notes of what they remembered, and items for 'show and tell' such as a real ration book and photos. According to Rosemary, the only fruit she saw when she was a child were apples, blackberries, plums, rasberries. She never saw an orange. she said: "Bananas: I first saw when 12/13 years old, when a girl brought one to school to show us. We gathered round and watched her peel it!"
There are various follies and temples and monuments in the grounds: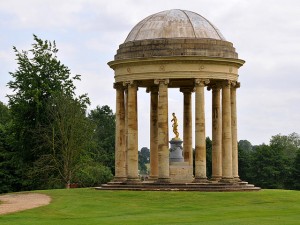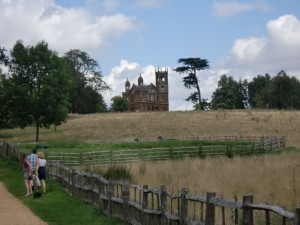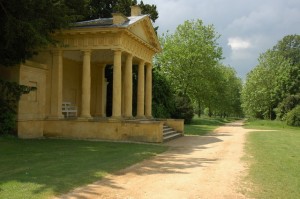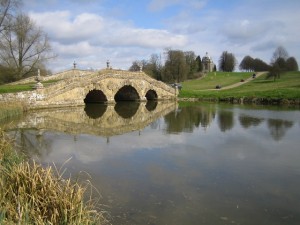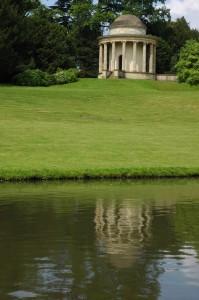 Commemorations are in full swing here for the centenary of the start of the Great War. I was very impressed by the commemoration to the Commonwealth war dead at the Tower of London: As part of the exhibition, 888,246 poppies will be 'planted' in the Tower of London moat this summer to represent the British and Commonwealth deaths in WW1. So I bought of the three beautiful ceramic poppies to commemorate the members of Toby's and my families who died in the Great War.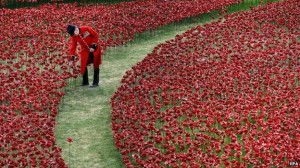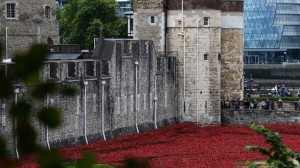 We'll visit the installation when we're next in London and we'll get our poppies in November:
http://petapixel.com/2014/08/02/breathtaking-photos-tower-london-adorned-888246-ceramic-poppies-commemorate-wwi/
Two poppies are for our great-uncles who died at Gallipoli:
(1) my great-uncle George Douglas Eastwood (my mother's father's brother). He was English (from the Isle of Man) but happened to be in Sydney when war broke out. He joined the First AIF and fought with the 18th Australian Infantry Battalion. He was 26 years old with he died at Gallipoli on 27 August 1915. He was shot in the water, so he never reached Anzac Cove.
(2) Toby's great-uncle by marriage, John Thomas Clegg, of the 9th Battalion, Lancashire Fusiliers, who was killed at Gallipoli 21 August 1915, aged 40. He left a wife (Esther, nee Burrows) and eight children
(3) The third is (now) for Reginald Benton, who is Toby's Great-uncle, his father's mother's brother. He died on the Western Front in October 1916 at the age of 34 (according to the Roll of Honour), and was also from the Lancashire Fusiliers. He left a wife and a son.
We decided to walk back from Oxford a different route the other day, and discovered Aston's Eyot, formerly the municipal dump (if you've read Gaudy Night by Dorothy Sayers, the dump is unfavourably mentioned). The dump was closed in the 1960s. It is now a 33-acre (13 ha) nature reserve on an island partly bounded by the east bank of the River Isis (Thames). Eyot is another spelling of ait meaning small island. The island is roughly triangular, bounded to the northwest by the River Cherwell and to the southeast by the Shirelake Ditch (AKA the Cherwell Cut).
It's part woodland, part open/scrub, and entered through Jackdaw Lane, beside the scrap metal yard. It's delightful.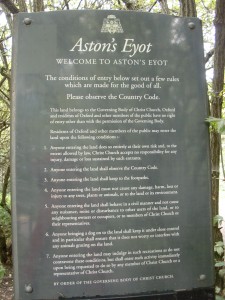 And it's full of surprises. When it was the municipal dump unused veges and fruit of the Covered Markets would end up there, so it has apples and pear trees galore. Apparently it also has badgers and deer and other animals, protected from humans by huge swathes of nettles and thorny blackberries. This time of year it's full of blackberriers with pans and tubs and bags, risking pain for the sweet fruit. (We were lucky enough to taste some of the spoils in a fabulous blackberry and apple pie cooked by the delightful Rebecca Banks, who had us around for dinner at her All Souls flat).
The blackberries were ripe and plentiful: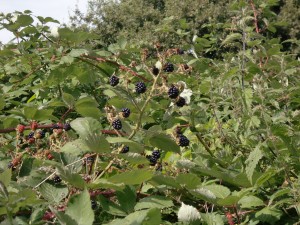 And Toby had to try them: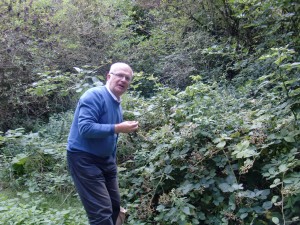 There are apple trees, like something out of Eden: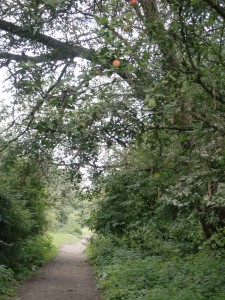 and sunlit glades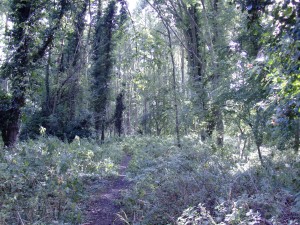 with enormous poplars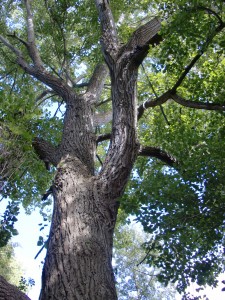 We went down to the banks of the Isis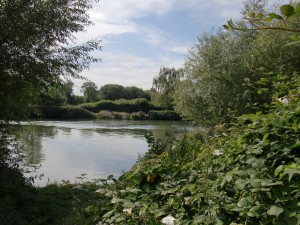 and took little paths through the bushland: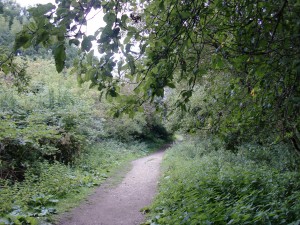 and wandered into dark copses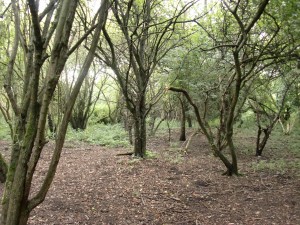 We found the 'Cherwell Cut', which joins the Cherwell with the Isis (Thames),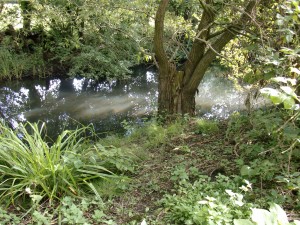 and watched rowers enjoying a family day out.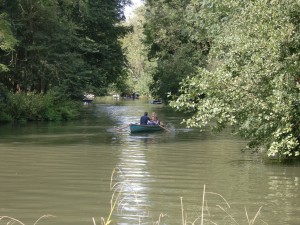 It's a magical part of Oxford, and so close to the city.
We were in Oxford last week and I suggested that we should look at a couple of colleges. Teddy Hall (St Edmund Hall) was open to all for free and as we looked around I remembered going to a ball there in 2001. The old church is now the library and students wander through the graveyard to get to it: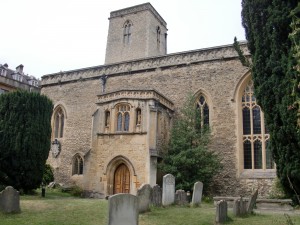 And I took a picture of the pretty gardens, with the 'dreaming spires' in the background.
Then it was off to Magdalen College. You're supposed to pay 5 pounds to enter, but I mentioned to the nice boy on the desk (who happened to be Australian) that I was an Oxford graduate, from Linacre, he let us both in for free. I must have a trustworthy face, as he didn't ask for any id.
Magdalen is one of the really outstanding colleges (even if it does charge 5 pounds, when the others only charge 2 pounds or nothing to enter). The college was founded in 1458 by William Waynflete, Bishop of Winchester and Lord Chancellor, who wanted a college on the grandest scale.
We met an angel: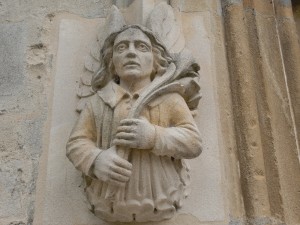 This is the main quadrangle: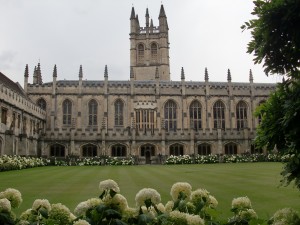 And an arty shot from the cloisters:
Toby thought that this was a medieval JarJar Binks (that's a Star Wars reference, for those who have – quite rightly – refused to see Eps 1,2 and 3):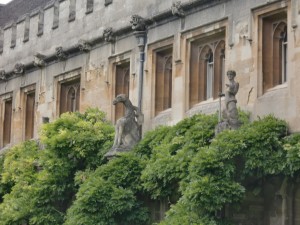 CS Lewis had rooms in this elegant building:
We visited the dining hall – very Harry Potterish (although those scenes in the movies were filmed in Christ Church dining hall, down the road):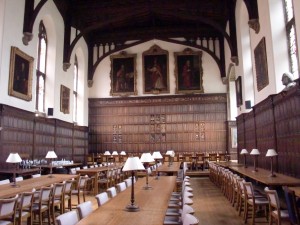 We finished with tea in the student cafe by the Cherwell, and watched the punters: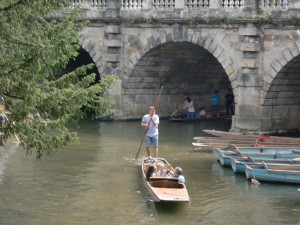 Next . . .
Agatha Christie's grave and Maple Durham