We had a lovley Christmas in Iffley. Toby's sister, Sophie, has joined us for a week and celebrated with us.
On 22 December we went to a candlelit concert in Exeter College chapel. The music was sumptuous and the setting sublime. A lovely Nativity scene had been set up under the altar.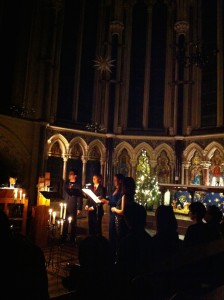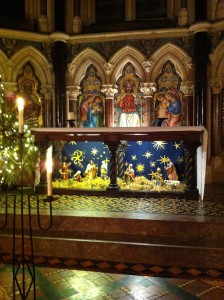 Oxford was getting into Christmas mode – i.e., eating. Bambi and Porky and some friends were hanging around the Covered Markets (don't look if you're vegetarian!). I like the Covered Market and the sense of age that comes from such scenes. Here is some information about the Covered Market: http://www.oxfordcity.co.uk/shops/market/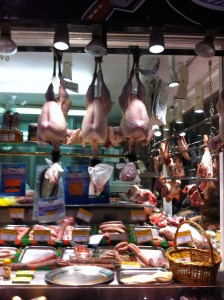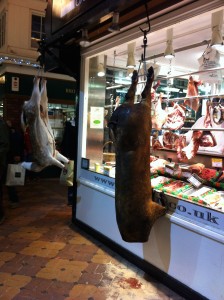 On 23 December we took Sophie for a drive to one of my favourite villages, Dorchester. I learned how to take a selfie by watching Toby's hand and not the iphone: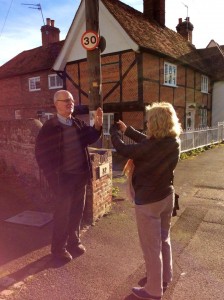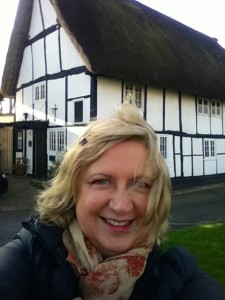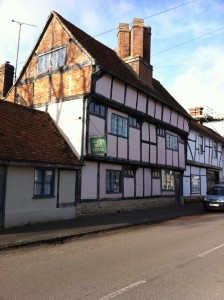 We went on to Basildon Park, where some of Downton Abbey and the Keira Knightly Pride and Prejudice was filmed. A beautiful country house, now run by the National Trust.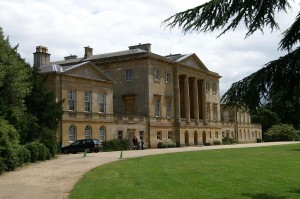 It was made beautiful for Christmas, with Christmas trees galore: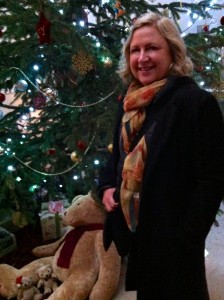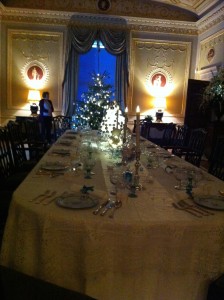 I loved this knitted nativity scene:

On Christmas Eve we drove into the Cotswolds, to my favourite village Lower Slaughter, where the houses exhibited beautiful wreaths: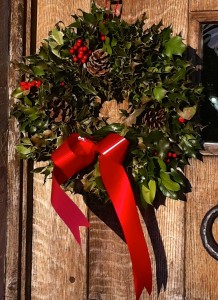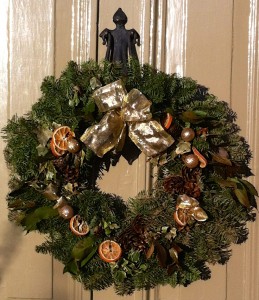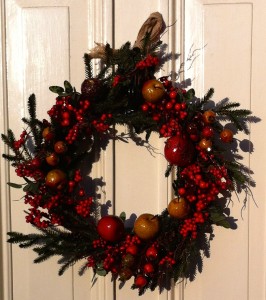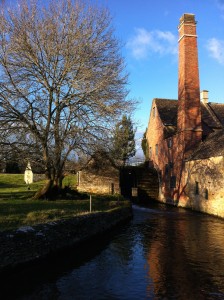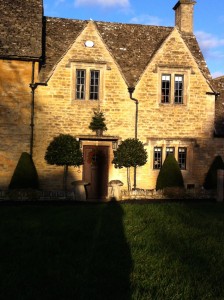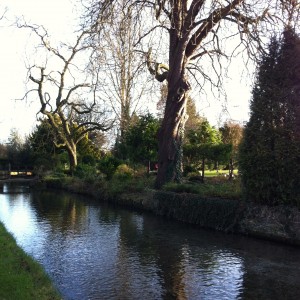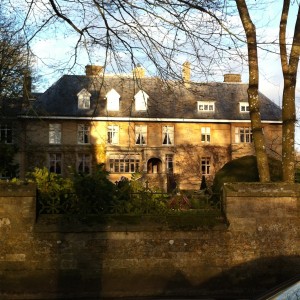 I spent Christmas Day with Toby and Sophie and we had a typical English Christmas, namely an enormous lunch (at the lovely Hawkwell House Hotel) followed by a walk along the river, and then an evening at home watching the Christmas specials on TV: Dr Who Christmas Special, Call the Midwife Christmas Special and Downton Abbey Christmas Special.
This is Hawkwell House: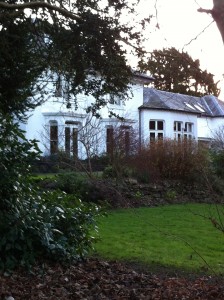 And this is Christmas dinner: entree, main and dessert: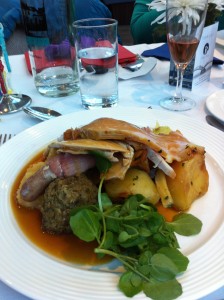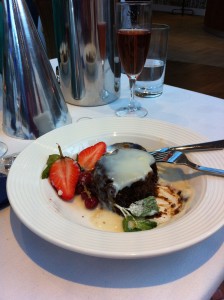 Yesterday we went for a short walk in the cold through the ususually deserted village: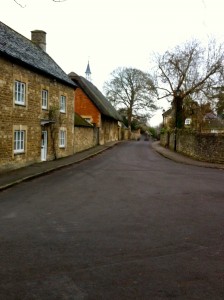 We walked to a chilly Iffley Lock: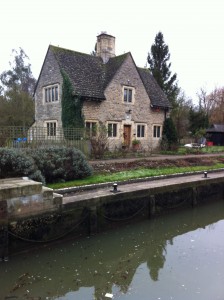 My sister-in-law became the Goose Girl: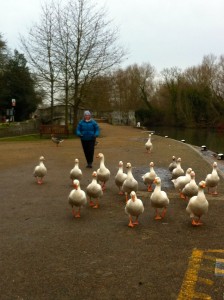 Then we showed Sophie our beautiful 12C parish church, St Mary's, which dates from 1170. It has amazing carvings around its doors, as explained here: http://greatenglishchurches.co.uk/html/iffley.html.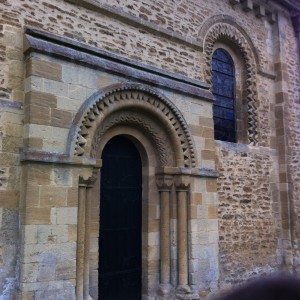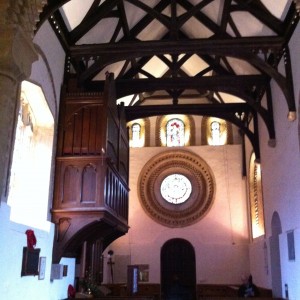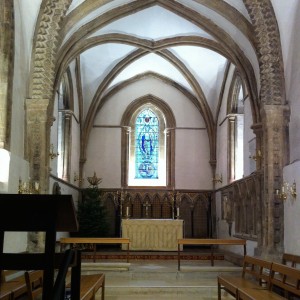 The south door. This arguably the finest part of the church. All manner of mythical figure is here, but little that is overtly religious! From its fine condition one would expect it to have been re-carved but it was in fact protected by a porch for a many centuries and was carved from particularly hard stone.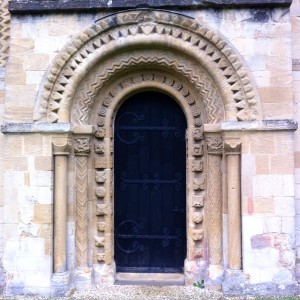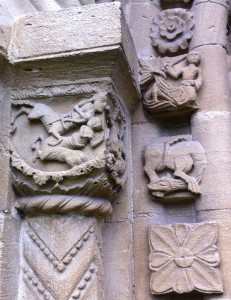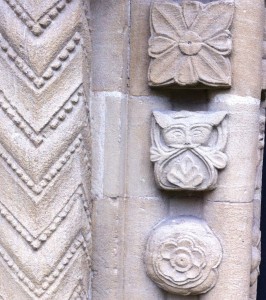 Inside it has some beautiful contemporary stained glass windows.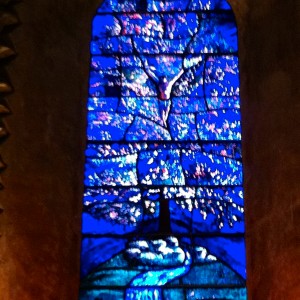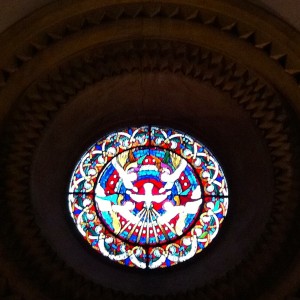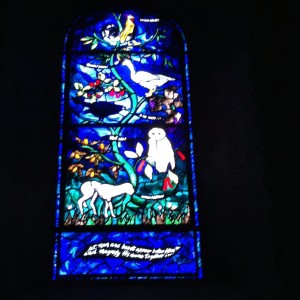 Outside it has a yew tree that is older than the church, a lamp post out of CS Lewis, and an Ent (aka a horse chestnut, planted when the village school was opened in 1838).