We're back in Iffley, after a few wonderful days in Berlin.
But first to my book. I'm so happy about this lovely review in the Sydney Morning Herald:
http://www.smh.com.au/entertainment/books/deborah-burrows-latest-mystery-a-time-of-secrets-brings-wartime-melbourne-to-life-20150319-1m303x.html
And also this review in the West Australian: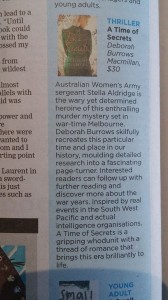 And a reader sent me this delightful picture of her cat, Miles, who's just finished chapter 27, apparently: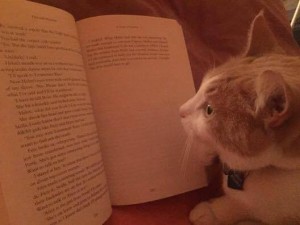 It's spring, and the weather is entirely unpredictable. Dickens put it well in Great Expectations: "It was one of those March days when the sun shines hot and the wind blows cold: when it is summer in the light, and winter in the shade."
The mornings  have been sunny, but then it clouds over and becomes very chilly indeed. In honour of the season, in these photos Oxford and I both have our spring coats on:
I put on my pink spring coat (bought in Hampstead in November) the other day to visit the Iffley Village shop and Post Office, which is run by a group of volunteers who feel that a village without a shop is without a heart. They're always delightful to talk to. Iffley is still very much a village, although it's now surrounded by a council estate and Oxford suburbs. Luckily there is no road through it, so you have to be going to Iffley to enter Iffley Turn and then Church Way. This is Church Way from the shop looking towards our house (which isn't visible)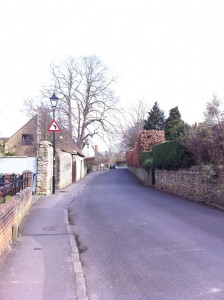 Here is the medieval Church Hall, also in Church Way.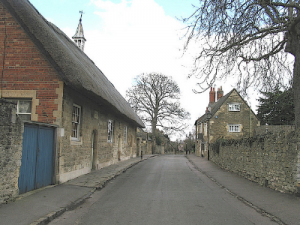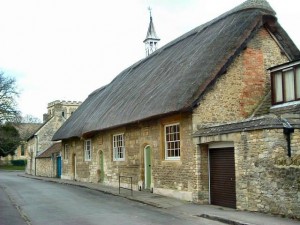 It's a pretty time of year. The thatched cottage at the end of Church Way is being re-thatched, but you'd never know it, as it's hidden behind the blossom.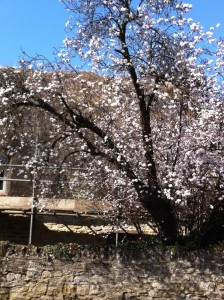 The old Lock House is a picture with bright daffodils, and the trees are pink and white on the bank opposite to it.
We went to London for a long weekend on 14 March, to enjoy the capital and go to a concert – Mariza – in the Barbican. Mariza is the queen of Fado, a Portuguese word meaning "fate". The songs are beautiful and heartfelt and it was a terrific concert. Here's a photo of the lady herself in full flight.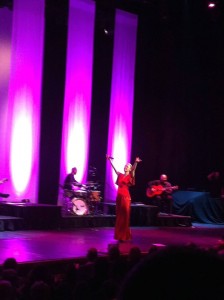 And here's a photo of me in my sophisticated London coat in our hotel. Just the thing for chilly springs in the metropolis to wear to galleries and concerts.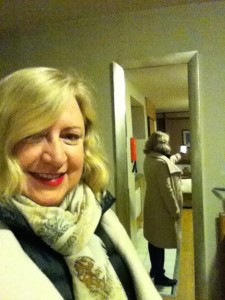 We went to the Museum of London, to trace the history of that fascinating city. One of the exhibits was on Sherlock Holmes. Here's Toby doing his impersonation: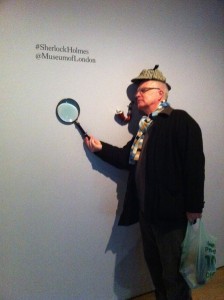 And then it was back home to attend a concert in Oxford. Over the past three Tuesdays we've gone to that most beautifully baroque of colleges, The Queen's College, for a series of Lenten concerts.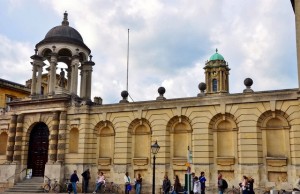 The music was by Arvo Paart and John Tavener and they were set in this superb chapel.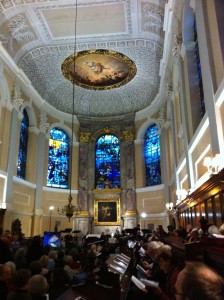 And for something entirely different, last week we went to Berlin.
We arrived in the late afternoon on 25 March and walked down the Unter den Linden to the Brandenburg Gate, saw the Reichstag and then had cocktails in the Hotel bar (excuse the selfie!).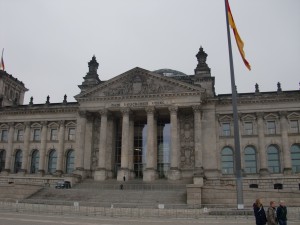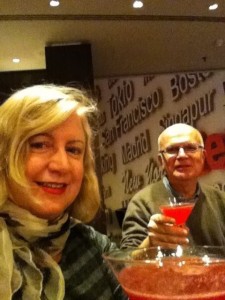 We were staying at a hotel in the former East Berlin, where it seems that everywhere you look, lovely old buildings are pockmarked with bullet holes.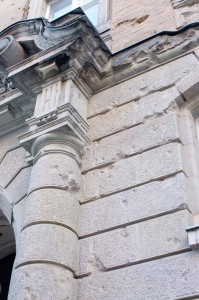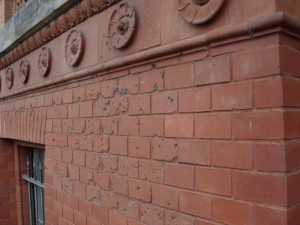 "They fought the Russians street by street here," said Toby, "as the Red Army headed for the Reichstag."
I shivered, and imagined the horror.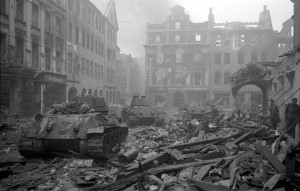 Toby's conference was at the lovely Humboldt University, on the really spectacular main street of Berlin, the Unter den Linden. We ended up walking the entire length of this lovely thoroughfare. Across the road from the University is the Bebel Platz, where the infamous Nazi book burning took place.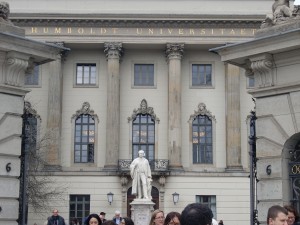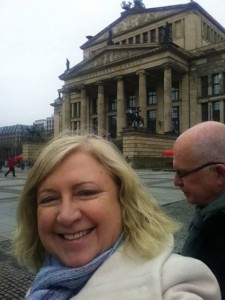 We ate a couple of times in a little cafe, Leon, which had as its theme, German movies of the 1930s.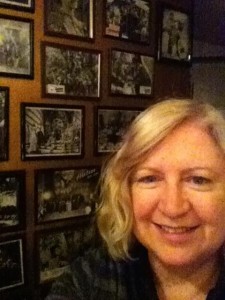 And we were rather perplexed by the large pipes that ran throughout the centre of the city, some pink, some blue.
On Saturday afternoon we wandered through the former West Berlin. This Berlin Church was damaged in WW2 and has not been repaired, as a symbol of the destruction of war.
They built a new chapel next to it in 1960, which from the outside is a pretty ordinary building.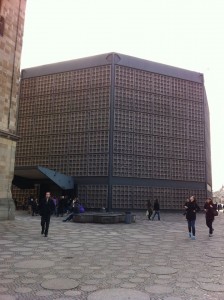 But once you enter … the photo doesn't do justice to the feeling of utter bliss at being surrounded by shimmering blue. It is utterly sublime.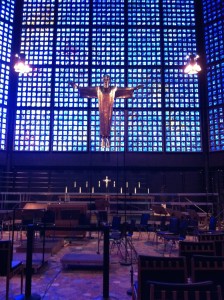 We also went to the Checkpoint Charlie museum, which was absolutely fascinating, as was what remains of the Wall.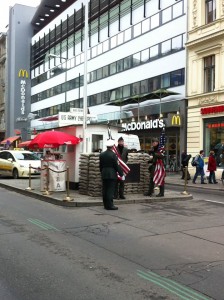 On Sunday we visited Potsdam. Unfortunately it was raining, so our sightseeing was limited. The English country house is actually Cecilienhof palace  (built during WW1), where the Potsdam Agreement was signed in 1945 for the military occupation and reconstruction of Germany. We saw where Churchill and Truman and Stalin sat and their offices in the palace. When Toby said, "That's the door that Stalin used to enter the room, I got goosebumps, almost as if his ghost walked through me." Ugh, he was a terrifying man.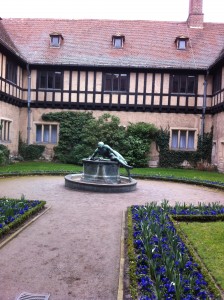 And now we're home!! Toby has a bad cold and I've an odd virus causing bad headaches and fatigue. We're staying put for a while now – although it's my birthday in a couple of weeks and Toby's booked us to go to a secret concert in London next Friday and then to a "secret birthday destination" for Sat 18 and Sun 19 April. I'll let you know where we end up going….