It's been over a month since I last updated my blog, and I'm annoyed that time seems to slip away so easily over here. We have been busy with work and travelling (and preparing to travel again)  and so it goes. I keep waiting for summer to arrive, but it tiptoes in with sunny mornings and cloudy afternoons, or rainy mornings and light, fine evenings. Only one day so far has been sunshine and heat all day – and I walked back from Oxford without sunglasses or hat and ended up with a migraine that knocked me out the following day… The ironies of English weather.
For example, what's wrong with this picture (apart from the fact that it's a selfie?) It was taken on the  FIRST DAY OF SUMMER and I am wearing the thick fisherman's jumper I bought in Edinburgh last  year to stave off the cold of an English winter.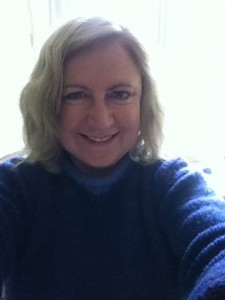 We're heading home to Australia for a couple of weeks this Thursday. Toby has a conference in Sydney (I'm staying in Perth) and he is giving a talk at the University of WA on 24 June – if  you are a Perthite, see if you can come along. It's a great topic and he's a wonderful speaker:
http://www.ias.uwa.edu.au/lectures/burrows
On 7 May the British held their general election. It is non-compulsory, and 'first past the post', which is all rather odd to us Aussies. As a citizen, Toby went up to the pretty thatched Iffly village hall and cast his vote. The result was a surprise, as everyone had been predicting a cliff-hanger, but the Tories got an increased majority. The map of England looked like this after the vote: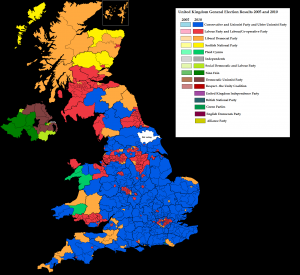 If you squint at the map, if you look deep into that sea of blue Tory seats in the south of England, you'll just make out a little red Labour dot to the north-west of London. That's Oxford East, where we live.
We also went to East Sussex to visit Toby's Uncle Robin for his birthday. At 89, he's a few months younger than the Queen. On the way home we had a lovely dinner in a 16th C pub in Alfriston and visited Beachy Head, a sheer chalk cliff, 162 metres high – and no fence! Toby wouldn't let me get too close to the edge…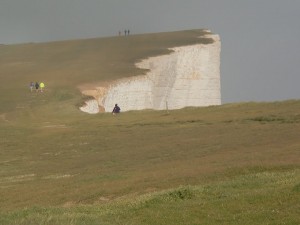 I had a dental emergency a few days later, when I bit on an olive and broke a tooth. The Oxford dentist was very nice – we talked about cricket. Hah!  I fooled him into thinking I knew something about it. I think he assumed because I was Australian I'd naturally be a cricket tragic.
Afterwards, Toby and I had a consoling coffee in the Organic Deli Cafe. It's in an old, high, narrow house in the wonderfully named street, Friars Entry. The Stranglers song Golden Brown was playing and Toby said: "That's one of my favourite songs of the eighties". The pretty young thing at the cash register replied, "My granddad built the harpsichord they use in that song. It's our family's claim to fame."  It's a great song. Enjoy the harpsichord…
A couple of days later we flew to Kalamazoo in Michigan, USA to attend the International Congress on Medieval Studies. We got to the hotel at 4.54am Oxford time, after travelling since 6.30am the previous day. Needless to say, I was a zombie by the time we arrived. Toby was booked to give a talk at the conference, but I also registered. After all, I DO have a Masters in Medieval and Renaissance Studies. The conference was at the Western Michigan University and was huge. More than 3,000 medievalists from all over the world, talking about any medieval topic you could think of. I went to the sessions on medicine, and fashion. Great stuff!!
Apparently many Scandinavians (particularly Swedes) settled in Michigan in the nineteenth century. And a few Burrows… While we were there Toby's sister sent us a message that Kalamazoo was about 30 miles north from where another Burrows clan settled, in Three springs and Constantine. Toby's 1st cousin 4 times removed, John Burrow died there in 1832. He was the son of William Burrow, brother of Jesse (Toby's great, great grandfather?) who went out to Bethel in New York State and from there to the new frontier lands. I have distant American connections, as well as my cousins in California and New York. One of my Finnish great-grandfather's brother's ended up in Oregan.
There was great excitement in Oxford in late May when the Student Referendum on whether to continue to wear subfusc at examinations was a runaway victory for the traditionalists. The results showed 6,403 votes (75%) in favour of keeping subfusc compulsory, against 2,040 students (24%) who voted to make the clothing non-compulsory, with 103 abstentions. The additional vote on keeping gowns and mortarboards compulsory was similarly balanced,  with 6,242 voting in favour of maintaining the tradition and 1,759 voting against.
This photo shows students in sub fusc. The boys wear white bow tie, white shirt and black dinner jacket and trousers, Girls wear black trousers or skirt and black stockings, white shirt and black ribbon. The gown that goes over the top of it all is a commoner's gown, which is short and sleeveless. Girls can wear an odd sort of hat or mortar board, but most choose the mortar board, like the boys.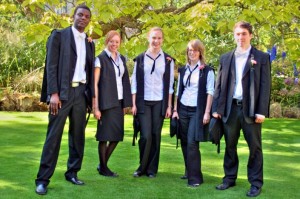 I know it's archaic, but I enjoyed wearing sub fusc. You wear it for Matriculation, exams and at special College dinners. I also wore it to be examined by Viva (where I sat at a big table and had questions fired at me by four professors in full doctoral regalia to determine if I'd graduate with distinction.) I was allowed to remove my mortar board during the grilling and I played nervously with the tassel throughout. I love the tradition of it all. It's traditional to wear a white carnation for the first exam, pink for the second and middle exams and red for the final exam and we've been seeing students with carnations of various shades running around Oxford for the past few weeks.
And speaking of archaic traditions – on May 23 I got off the number 3 bus, crossed the High and went down Catte Street into Radcliffe Square, where I was greeted by Tudor music and a cavalcade of people in Tudor wear. And there, under a banner, was Goriana herself – Good Queen Bess – Queen Elizabeth I.
Apparently it was Gloriana Day which is a re-enactment of Elizabeth's 1566 visit to Oxford, with music, dancing, poetry, plays, parade. Toby took some photos: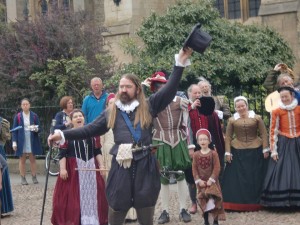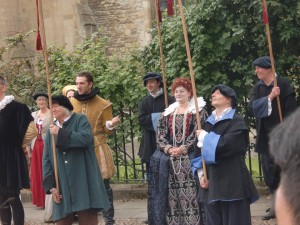 I've been going into the Bodleian with Toby regularly to study for the new book, provisionally entitled Moonlit Death. It's set in the London Blitz and I'm happy with how it's going. I got a bit out of kilter for a while and couldn't settle into the book, because the rather disappointing sales figures for Secrets made me question my future as a writer. Then I realised that what I enjoy is the process. I like to write. I like to write about history. And I like to ensure that what I write is historically accurate as well as entertaining. I'm a historian and I know how to research. I'm also an Oxford graduate (with distinction!) and so I can use the amazing resources of the Bodleian Library whenever I want.
So I got out of my slump and got back into research and writing. And in what wonderful surroundings! This is the view from my favourite desk in the Bodleian Lower Reading Room: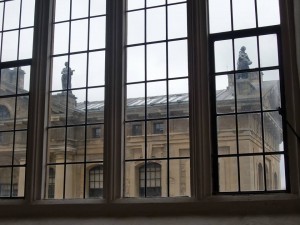 And I'm watched over by this charming little fellow as I work. He's my good luck grotesque.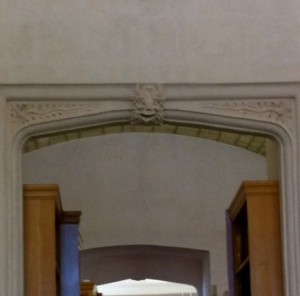 I've had some lovely reviews for A Time of Secrets.
http://www.austcrimefiction.org/review/review-time-secrets-deborah-burrows
http://bookgirl.beautyandlace.net/book-review-a-time-of-secrets
http://aussiereviews.com/2015/05/a-time-of-secrets-by-deborah-burrows/
And the lovely Australian author, Jenn J McLeod sent me this photo of Secrets in Dymocks, NowraL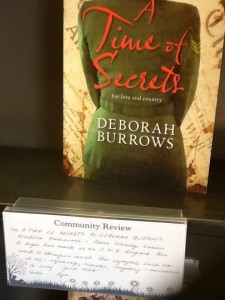 On 28 May we had a visit from Giselle and Tony, friends from Perth, and spent a lovely day showing off our Oxford to them. It was the start of Eights Week and after taking them into Trinity College and having lunch at the Ashmolean (now our favourite Oxford restaurant), we took them for a walk along the Thames Path to show them the rowing, and to the Isis pub for a drink.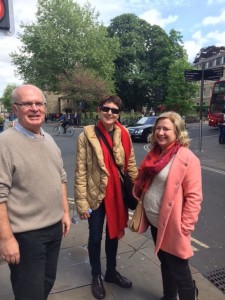 And to our little house in Iffley.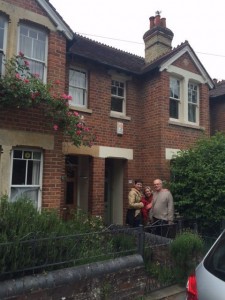 The following day we went to the amazingly High Victorian Oxford Town Hall to see TINARIWEN, Master bluesmen of the Malian Sahara.
"Founding member Ibrahim Ag Alhabib, grew up in desolation in Mali, where he witnessed his own father's death at the age of four. Later, after seeing a western film, he built his first guitar from a bicycle wire, a stick and a tin can. The band was founded in the 1980's in Tuareg camps in Libya, where the nomadic peoples had relocated to find work and a new life away from their homeland of the Sahara. Disillusioned by the promises of Quaddafi at the time, the Tuareg became restless again and longed for home.
But the interaction with city life yielded unexpected consequences, they became exposed to western music – most notably the guitar-driven anthems of Jimi Hendrix and the American blues – which they mixed with their own soulful dirges which they'd perform in the camps by the fire with battery-operated amps. When revolution broke out back in Mali, they left Libya behind, hung up their guitars and picked up guns to fight for the Tuareg independence.
When the discord died down, the band returned to music, delivering songs imbued with aching beauty and lonesome poetry. Their music was bootlegged and traded around the region. Then in the late 1990s, they were discovered by western musicians and for the first time, their songs left the Sahara and were introduced to the world. For the next ten years, the nomads now travelled the world, performing at nearly every notable festival and venue around the globe, providing the world with a taste of the aching beauty and lonesome pleasures of Saharan Assouf."
The Oxford Town Hall is a gorgeous building. It's built in that very over the top late Victorian style. We'd never been in it before and spent the time before the concert gazing at the ceiling and people watching. There were Men with Hats in the audience: pork pie hat, embroidered fez (white guy), head scarf and a knitted woollen beanie. The women weren't nearly as exciting, although there was a knitted beanie and a black bowler-type hat on a pretty young thing.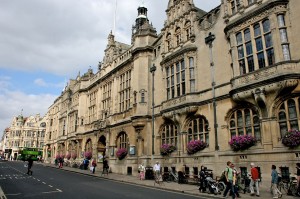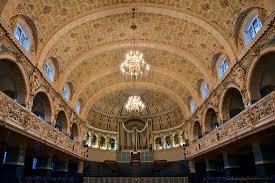 It was rather an unusual setting for the "Master bluesmen of the Malian Sahara", but we thoroughly enjoyed the concert.
The day after that was something entirely different! We went to the Sheldonian Theatre, to see the Instruments of Time and Truth performing homage to Mozart:
Overture to The Marriage of Figaro/ Violin concerto no 5 in A major, Soloist Bojan Čičič/ Arias from Don Giovanni and The marriage of Figaro, with Katherine Watson and Christopher Purves/ Symphony no 41 the Jupiter. They were great!!
I love visiting the Sheldonian. It was designed by Christopher Wren and it's where the Oxford graduation ceremonies take place. I was there way back in 2003, when I graduated with a MSc in Economic and Social History – History of Medicine. The ceremony is entirely in Latin, so I assume I graduated…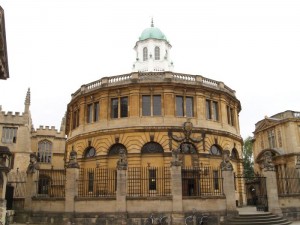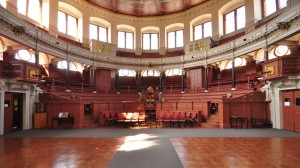 Last week we went to Antwerp in Belgium, so that Toby could give a paper at a conference there. The day before we stayed in the very luxurious St Pancras Hotel, which was a treat. We had a drink in the former booking hall, which is now a bar. Here is an arty shot of the hotel through the bar window. And one of the bar,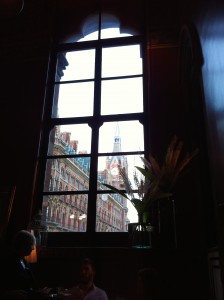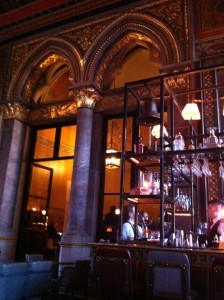 Here is the marvellous staircase – we were in the New Bit Out the Back, needless to say…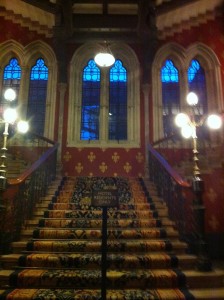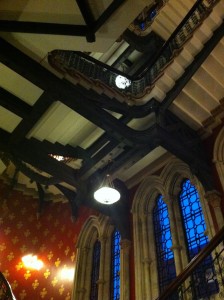 That evening we took the bus to Souhtbank, to the Nationa Film Theatre to see the movie, Timbuktu. It has been nominated for an Oscar for Foreign Film and I'm not surprises, as it was amazing – brilliant cinematography, acting and a story that was unbelievablely, heart wrenchingly sad. The characters haunted my dreams that night. It's a 'must see' movie, but prepare to be devastated.
We also spent some time in Soho, so I could check out the Cafe de Paris. This is forming part of the new novel, so I wanted to walk the route from Piccadilly Underground Station to the nightclub and see the area around it. It is one of the most notorious blitz stories. During the war, the West End was full of live music. From streets darkened by the black-out, one could escape into a brightly lit world of crooners, cocktails and big bands. And the place the smart crowds were drawn to was Soho's sumptuous, subterranean Café de Paris. It was where debs and celebs chose to go for a good night out. Here, apparently, 'the men all seemed extraordinarily handsome and the young women so very beautiful'.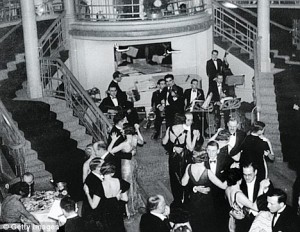 It was promoted as 'the safest and gayest restaurant in town, 20ft below ground'. On 8 March, 1941, that boast was proved to be a deadly lie. The area between Piccadilly Circus and Leicester Square was being strafed with bombs. Inside the Café de Paris, West Indian-born band leader Ken Johnson – known as 'Snakehips' because of his silky dancing style – revved up his swing band into the opening bars of the Andrews Sisters' hit, Oh, Johnny, Oh, Johnny, Oh!. Suddenly, there was an immense blue flash. Two bombs had hit the building, hurtled down a ventilation shaft from the roof and exploded right in front of the band.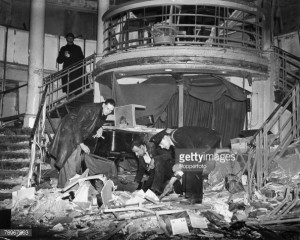 It was fixed up after the war, and it is still an exclusive night club. We didn't have time to go in, but I wonder about the ghosts…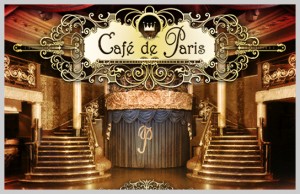 The next morning we embarked on what was the easiest journey to Europe that I've ever had. We checked out, wheeled out suitcases through the hotel lobby, turned left into a vestibule, opened a pair of glass doors and there we were in St Pancras Station. We took the glass lift to the platform, went through the luggage security check (ubiquitous nowadays, sigh!) and had our passports checked by British passport control. Next we crossed no man's land and had our passports checked by French passport control (the man in the booth winked at me when he handed back the passport – ah, those Frenchmen!!!) Then we waited in the crowded departure lounge until called on to the train about 20 minutes later. It was a very short trip to Brussels – about 2 hours. The Chunnel was much shorter than I'd thought it would be, a small jouney into darkness and then we were in France. We changed at Brussels for the local train to Antwerp and were in our very nice hotel – Hyllit in a few minutes. That's what I call travel!
It was a very short trip to Brussels – about 2 hours. The Chunnel was much shorter than I'd thought it would be, a small jouney into darkness and then we were in France. We changed at Brussels for the local train to Antwerp and were in our very nice hotel – the Hyllit – in a few minutes. That's what I call travel!
We emerged into a railway station that was the most beautiful I've ever seen. The Antwerp Central Station was completed in 1905 and has two monumental neo-baroque façades, a 60 metre metal and glass dome and a gilt and marble interior.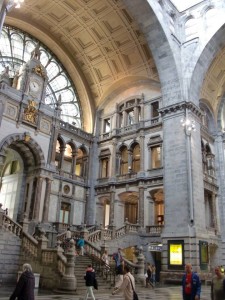 We liked Antwerp very much (it certainly helped that our first two days there were ones of sunshine and warmth).
On the Sunday I accompanied Toby to mass in the Onze-Lieve-Vrouwekathedraal(Cathedral of our Lady), which was begun in the 14th century and finished in 1518. The church has four works by Antwerp's golden boy, Pieter Paul Rubens. It is the highest cathedral in the Low Countries and  remains the tallest building in the city. We loved that about Antwerp – it has resisted the modern tendency to build higher.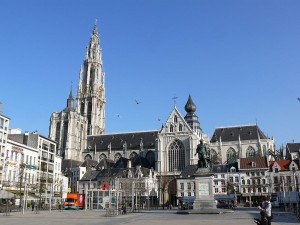 We wandered around the old city that afternoon, admiring the buildings and the floral exhibition outside the city hall, in the Grote Markt (Main Square).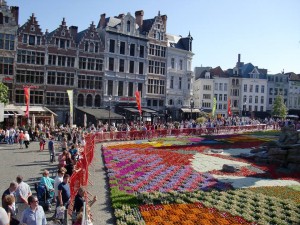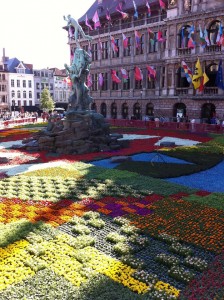 We had dinner in a wonderful vegetarian restaurant, which served 'more than 90 types of gin'. So we had to indulge in gin cocktails. We chose a local gin, with citrus and honeysuckle elements…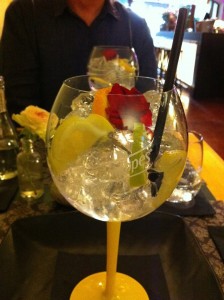 We saw this poster on a wall – it amused me: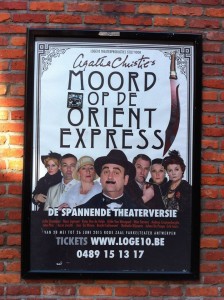 The following day we did the tourist trail, visiting the Print Museum – incredible – and Ruben's House – also marvellous. The Plantin-Moretus Museum of print is UNESCO Heritage Listed. As the blurb says:
"The Museum Plantin-Moretus is unique. It is just as if after 440 years the working day is about to begin for the type founders, compositors, printers and proofreaders in the world-famous printing works. The oldest printing presses in the world are there, intact and ready to roll. The offices and shop echo with conversations between Christoffel Plantijn and aristocratic and scholarly clients from all over the world.
Feast your eyes on the home of the Plantin and Moretus families! Stroll through the drawing rooms, soaking up the atmosphere of life in Antwerp in the sixteenth and seventeenth centuries and admiring the impressive art collection which includes portraits by Peter Paul Rubens.
Continue on your way through the rarefied libraries lined with the breathtaking 30,000 old editions that make up the Moretusses' collection. Marvel at the magnificent manuscripts and some of the finest examples of European typography."
We spent hours in there. Here is the renaissance garden: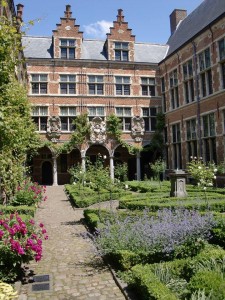 And this is a lion we made friends with on the stairs: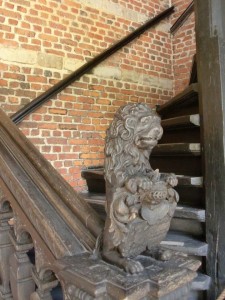 The Ruben Huis was also fascinating.
And this is some fun from a shopping centre that was as decorative as the Station: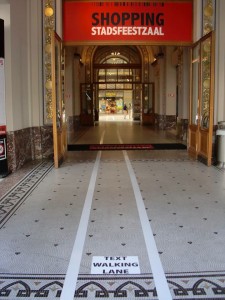 And that's why it's so hard to keep up the blog – too much to do!!
We'll hopefully see as many of you as possible in the next few weeks. I can't say I'm looking forward to a Perth winter, but I believe the weather has been glorious, so maybe it'll be warmer than an English summer!! But it won't be light until 10.00pm. I got up at 5.00am the other morning and it was bright light outside – remember we're on daylight saving, so it was really 4.00am!! I do love the summer light here.
Deb