Sorry if I've not replied to various emails, as we've been in Cornwall and out of internet and even telephone reach. Its been a hectic week and a half.
On Saturday 28 June (which is my darling mother's birthday; she would have been 94 years old) we went into London. It was a grey day, with light drizzle, but I was on a Mission and didn't let that worry me.
I'd bought a copy of "A Wander through Wartime London: Five Walks Revisiting the Blitz", and I was determined to do the Bloomsbury walk. So Toby and I wandered around Bloomsbury in the drizzle, revisiting the Blitz.
I feel very comfortable writing about the area now, because I've now walked the streets where my heroine drove her ambulance and I've seen the site of her Auxiliary Ambulance Station 56A in Woburn Place. It was in the garages in the basement of this huge apartment block: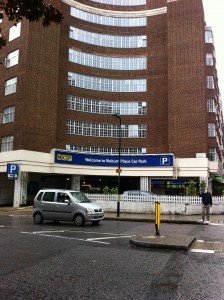 It was a fascinating awalk, which included various sites where bombs fell, in both world wars. Did you know that Bloomsbury was pounded by the Zeppelins and Gotha bombers in the First World War, as well as by the bombs of the Second World War? And, sadly, it was hit again in 2005, when the 7/7 bombings occurred.
We went into the crypt of St Pancras Church, which was used as an air raid shelter. I wondered what it must have been like to come here, night after night, and wait for the All Clear as the walls shook with each bomb that hit nearby.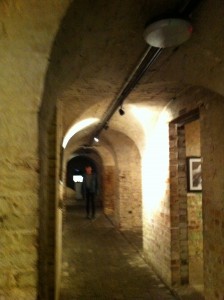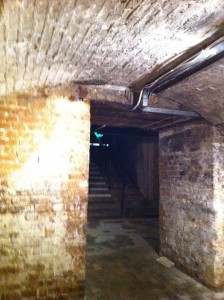 It's fairly easy to spot where there was a direct hit in the Blitz; a street will be a picture of Victorian elegance and then a jarring note appears – a new building completely out of character in the street in the middle of a row of eighteenth or nineteenth century houses.
You can see in this picture that the top floor of the building was destroyed and rebuilt in differently coloured bricks.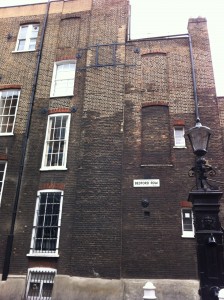 After our walk around Bloomsbury we made our way to Aldwych Tube Station, which was at first known as the Strand, which was closed down in the 1990s. It is available for a week each year for guided tours of the old station. It opened in 1904 and still has many features of that gracious time. It was also used as an air raid shelter in WW2, and nowadays is often leased to film and television companies who want to shoot scenes set in the underground. It was a fascinating tour.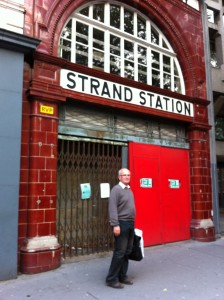 On Sunday we headed off to North Cornwall. Our lovely neighbour, Venetia, offered us the use of her family's 200 year old fishing cottage, which is located at the head of Port Quin, a really beautiful little bay, next to Port Isaac, which is the setting for the Doc Martin TV series.
It's a long journey to Cornwall, even on the motorways, but we got there at around 5.00 to see this: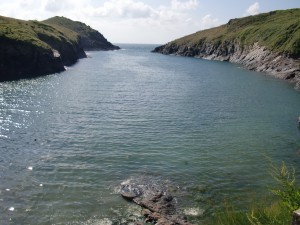 Quay cottage is at the very end of the quay.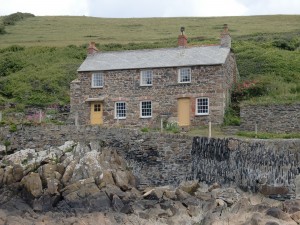 It is filled with antiques and has a view of the water from every window: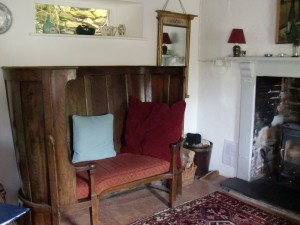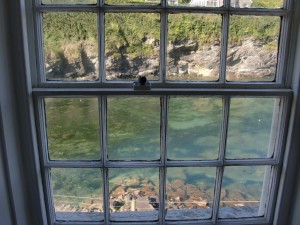 Port Quin is a tiny village with less than a dozen stone houses, now almost all owned by the National Trust. This is a view of the village from the headland, with Quay Cottage on the left.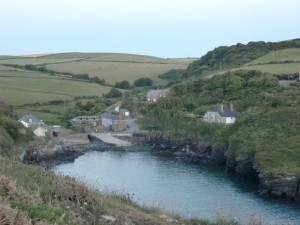 It was amazingly restful, just to watch the tide come in and out, which it did in rather spectacular fashion twice a day. At low tide the bay looked like this: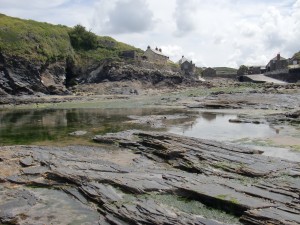 As opposed to high tide, when it looked like this: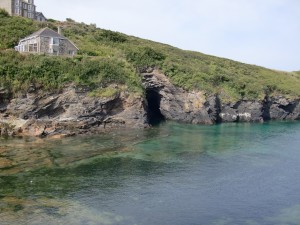 The sunsets really were spectacular: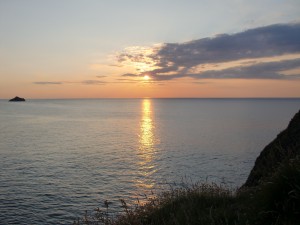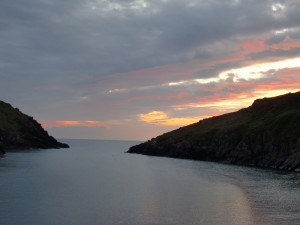 We went exploring at low tide into the sea cave we could see from our windows, where kayakers had paddled just hours before.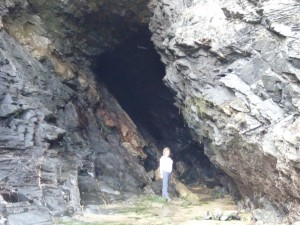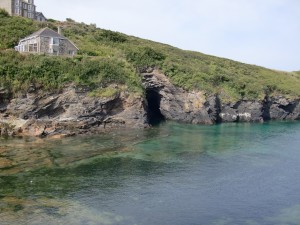 We made friends with a robin. One morning he got a bit too friendly and came inside the cottage. I had to act quickly to wrap him in a calico bag and get him outside. He seemed no worse for wear, though.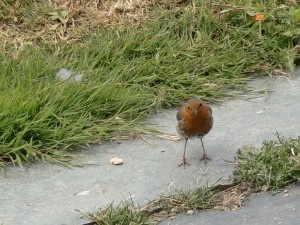 The seas were millpond calm the whole time we were there and it rained only on the day we left. Here are a couple of sea kayakers. They'd set up and depart from our bay, then paddle out past the headland, on a sea as gentle as I could ever imagine.
And we certainly got our exercise by walking along the coastal path both ways. The scenery really was spectacular and the photos don't do it justice. One day we walked up a hill and over a field and came to Doyden House, where Venetia grew up.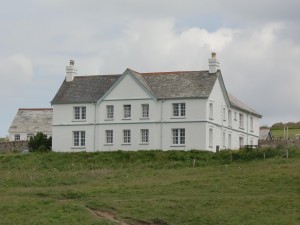 Venetia's family used to own most of the land, the fishing cottages, the farm, Doyden House and Doyden Castle, which is an early 19th Century folly that looks like a tiny castle set right out on the headland. Her parents left it all to the National Trust, with the exception of Quay Cottage, which the family kept for themselves. The National Trust now rents out the cottages, the house and the castle and looks after the area.
This is Doyden Castle. If you're a Doc Martin fan, it's where the baby was dangled out of the window. We were told this interesting fact by a couple of passing walkers as we gazed at it. The National Trust rents it out as a posh holiday cottage, and to TV and movie producers.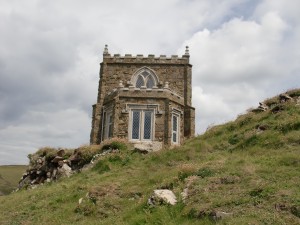 And here are the House and Castle together.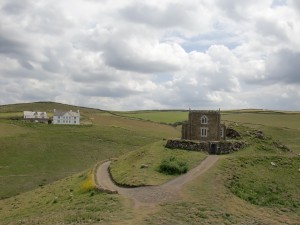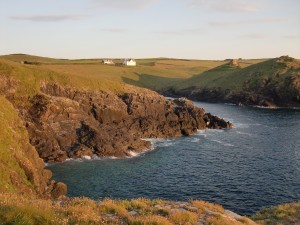 These are old abandoned mine workings. I dropped in a few rocks but couldn't hear them hit the ground.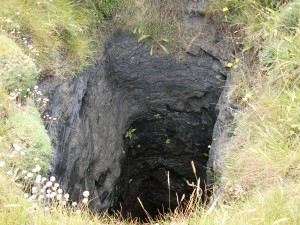 On Monday we met our friends Sally and Ian Vanderfeen, who were serendipitously in Cornwall visiting relatives as part of their 3 month grand European holiday. We had tea with them in Port Isaac, a very pretty little village but oh, so touristy due to Doc Martin.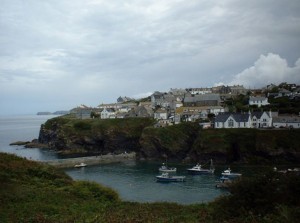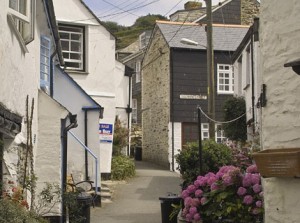 On Wednesday we drove out to Tintagel, a spectacular part of the coast and the next bay along from Port Isaac. Again very touristy and, very hot!! Too hot to scramble over rocks.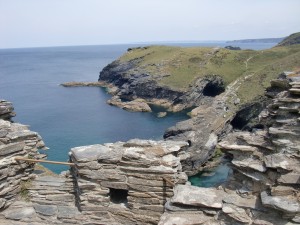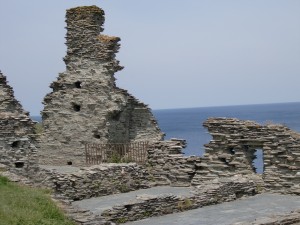 So we had a look at a medieval house in the village: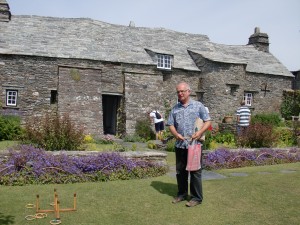 and went on to Boscastle, a pretty harbourside village a little further along the coast.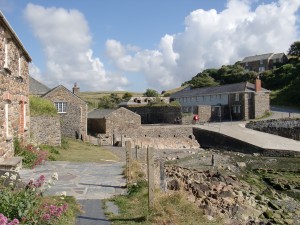 On our last evening – and the light lasts until 10.00pm so the evenings are long and lovely – we went for a last walk along the coastal path towards the town of Polzeath via Pentire Point and the Rumps. It's a wonderfully craggy coastline.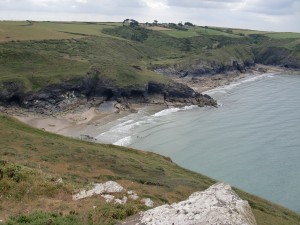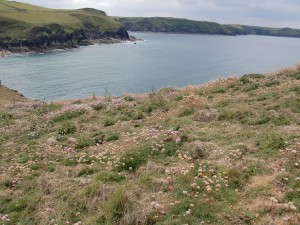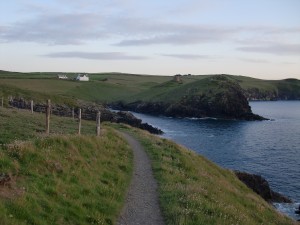 And on Pentire Point we found the plaque commemorating the spot where Laurence Binyon composed 'For the Fallen' in 1914. This is the poem which contains what is now known as the 'Ode of Remembrance':
They shall grow not old, as we that are left grow old
Age shall not weary them, nor the years condemn.
At the going down of the sun and in the morning
We will remember them.
Binyon said, in 1939, "I can't recall the exact date beyond that it was shortly after the retreat [from Mons]. I was set down, out of doors, on a cliff in Polzeath, Cornwall. The stanza 'They shall not grow old' was written first and dictated the rhythmical movement of the whole poem."
It's a lovely spot to write such lovely words, which always make me cry.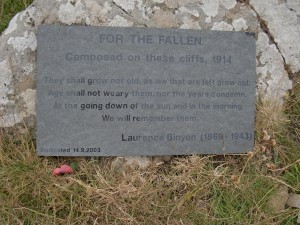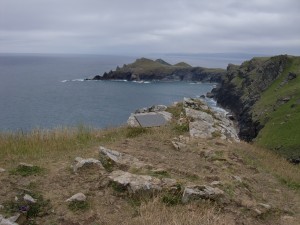 I managed to get in some writing myself and am now up to 8,500 words. I'm never really happy until I'm at 10,000, which is 10% of the finished novel. It's easy to write when the only sounds are the haunting cries of the English gulls and the gentle waves lapping below the cottage.
Here is Toby, relaxing in the sun: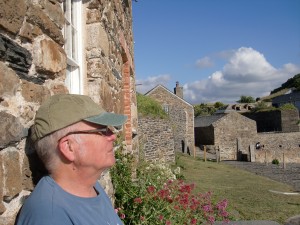 Then we drove back to Oxford. Tomorrow (Monday) we fly to Lausanne, on the shores of Lake Geneva in Switzerland. Toby is to deliver a paper at a conference there and we're away for the week.
Love to all
Deb