You all must have assumed I was never to write another blog entry. No such luck!  We've been really busy in the last few weeks and my blogging has taken second place to (1) a rushed but delightful trip home to Perth, (2) four days in Prague, (3) a day trip to lovely Shrewsbury, (4) a couple of days in London, (5) exploring Flora Thompson (Lark Rise to Candleford) territory in north Oxfordshire, (6) watching them film Lewis in the Broad, (7) enjoying Shakespeare in the beautiful Wadham College gardens, (8) spending days in the Lower Reading Room of the Bodleian Library researching WW2 London, and (9) desperately seeking summer….
We flew home to Perth for two weeks in June, arriving on a rainy winter's day that was still warmer than summer in England. It was lovely to be back for a while, but rather discombobulating… But we saw my gorgeous great-niece and Toby's gorgeous grandchildren (twice!!, what a treat!) and remembered how exhausting very young children can be. We were able to catch up with most of our family and with friends. My dear friend Carolyn even baked me a cake to commemorate my latest 'baby':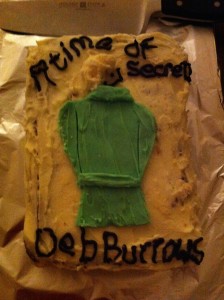 Then home to Oxford and more winter. If you want to share our pain, this is an amusing set of holiday snaps –  an English summer:
http://www.theguardian.com/uk-news/gallery/2015/jul/28/your-underwhelming-uk-holiday-photographs?CMP=share_btn_fb
We were bemoaning the lack of heat and/or sunshine when we headed off to Prague, which was HOT, HOT, HOT. The day we chose to do a 2 1/2 hour walking tour of the old city was the hottest July day on record. Embarrassingly, we did not take hats or water with us and hopped from shade to shade as the history of that wonderful city was set out. I loved Prague. The centre is still largely unspoiled (it wasn't bombed during either the First or Second World Wars) and the Russians seem to have left it as a showpiece.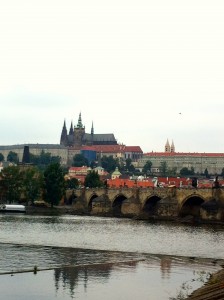 When he worked as a clerk, Franz Kafka lived in an apartment in Dlouha, which happened to be across the road from our hotel. It was so noisy that each evening he'd walk across the river to Golden Lane near the castle to write in peace for four hours, walking back to his flat at midnight.
We loved the decorative Art Nouveau and Art Deco buildings in the old city.
While we were in Prague a major European folk dancing festival was being held and music and dancing and exotic costumes were to be found all over the town. You have to admire their fortitude, dancing in heavy costumes in real heat – up to 36C.
A few days after we arrived back we set off to see my friend Judith in Shrewsbury. I'd never been and I do love the Brother Cadfael mysteries. We had a lovely day, which included tea in a garden cafe by the river.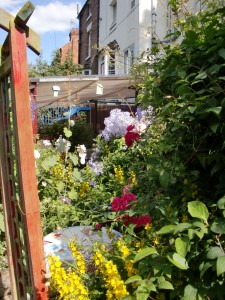 We have become fans of the new "Inspector Morse" spinoff, Endeavor, which is set in the 1960s and "centres on the early career of Endeavour Morse (Shaun Evans) after leaving Oxford University late in his third year without taking a degree, spending a short time in the Royal Corps of Signals as a cipher clerk, and then joining the Carshall-Newtown Police." Of course, he's seconded to Oxford, where he solves an especially troubling murder and stays forever. We've seen evidence of the filming, but alas, not Shaun Evans. Here's a photo, to make up for it: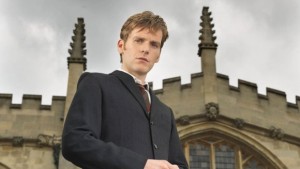 We did see various cars lined up in Brasenose Lane a few weeks ago, ready to be used in a scene. And we heard from our desk at the Bodleian the desperate attempts to start one an hour or so later. Apparently it wouldn't start and the scene was filmed without it. Here we are in front of one of the more prestigious ones.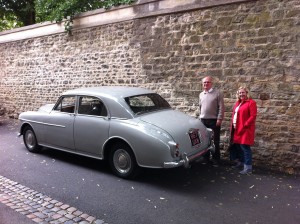 They also spend a lot of time filming Lewis in Oxford. We really like that show too (especially Inspector Hathaway – well, I do!). One afternoon they'd blocked off Magpie Lane and we asked bouncer-type what was being filmed. "Lewis," he replied. "It's always Lewis in Oxford". Diplomatically, I didn't mention Endeavour.
Last week we had the pleasure of seeing the show being filmed in an outdoor cafe in the Broad. Lewis and Hathaway were taking tea. Over and over and over again. Filming is a tedious business… It was exciting to watch for the first five or six takes and then we wandered off. But I got some good photos: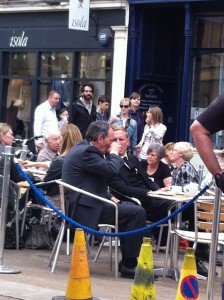 A twitter follower of mine pointed out that 'the old guy' to the left in this photo is Colin Dexter, who wrote the Morse series of novels. 🙂 I hadn't realised.
Those photos got me (at last count) 998 views of my Facebook Page.
Last week we went on a little pilgrimage. This is the house JRR Tolkien lived in from 1953 to 1968, at 76 Sandfield Road, Headington. Unfortunately for him, he was living there when the Lord of the Rings was published and in the end the fans, desperate to catch a glimpse of him, forced him out. He moved to the slightly harder to get to Bournemouth where he lived until his death in 1973. We wanted to visit his grave, but it's a bit tricky to get to. Another day.
And speaking of Tolkein, on our way back from Shrewsbury we had dinner in the Bell Inn, in beautiful Moreton-in-Marsh High Street. It's a lovely little Cotswolds town that looks as if time had stood still. Yes, there were cars and people in modern clothes. But the stone buildings, the beautiful trees and well-kept houses all could have been from three centuries ago. The Bell Inn prides itself as being the pub Tolkien used as inspiration for The Prancing Pony pub in Lord of the Rings. They keep a map of Middle Earth on the wall to remind you. We had a very tasty risotto.
We visited London a couple of weeks ago, so Toby could visit the Imperial War Museum to see the exhibition Fashion on the Ration.
http://www.iwm.org.uk/exhibitions/iwm-london/fashion-on-the-ration-1940s-street-style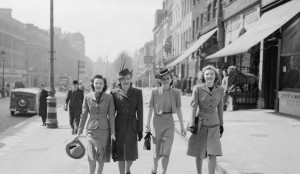 And we took the opportunity to wander around Mayfair (where some of the action in the new book takes place). Mayfair is another world. This is Berkley Square Gardens, where the nightingale sang in the old song.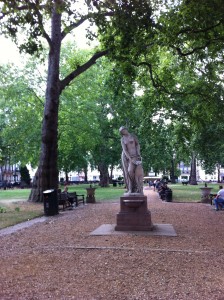 One weekend we drove out to Flora Thompson country. Flora Thompson, who left school at thirteen and grew up in rural poverty, wrote the wonderful Larkrise to Candleford. When she was still a young girl,  a gipsy woman repaid her for a small kindness by telling her fortune, reading her face rather than her hand. It was distinctly odd. There was no dark, handsome stranger, no long journey and no unexpected riches. "You will be loved by lots of people you will never meet, people all over," said the old woman and waved her hand to indicate the world.
I adore those books. In Lark Rise, Over to Candleford and Candleford Green, Flora describes her childhood in the impoverished farming community of Juniper Hill in the remote corner where Oxfordshire, Northamptonshire and Buckinghamshire meet. They are set in the 1880s and early 1890s, although she did not begin them until 1938. All three books were brought together in 1945 as Lark Rise to Candleford. 
And this is her cottage (now much extended and the thatched roof replaced with slate).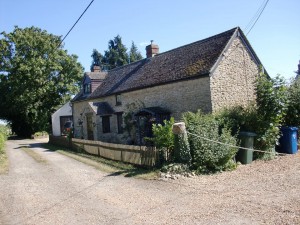 "Poverty's no disgrace, but 'tis a great inconvenience" was a favourite saying that occurs frequently in the book. The families in Juniper Hill  lived in terrible poverty. The men worked the fields for 10 shillings a week and the hamlet families survived on what they grew in cottage gardens and by keeping a pig and some hens. She wrote: "There were no bought pleasures for there was no money to pay for them, and never enough even for necessities, but people enjoyed good health, sang out of doors and were happier then."
Sadly, modern farming practices have driven out the larks and no one who lives in the hamlet now works the enormous fields that surround it.
We also visited Fringford – the Candleford Green of the books and wandered around some lovely open gardens and  had tea in one of them. It is a delightful, unspoilt village, with thatched houses set well back behind broad grass verges along the main street. The old post office Flora worked in is there and, although it is now a private house, Flora would recognise it immediately.
What else?Well, in late July we had strawberries and cream and wine and music on the Glebe field  in our village – it was the summer party. We spoke to the Vicar and to fellow villagers – all rather posh because it's a rather posh village. incidentally, the definition of glebe is: noun  historical A piece of land serving as part of a clergyman's benefice and providing income
And, finally, most of my time has been spent in the Bodleian library, happily researching the new book. I adore historical research and what a treat it is to be able to order literally any book I want, while being able to look up at any time to see this view.
At present, I have on my desk:
The Battle of Britain : five months that changed history, May-October 1940 
The arts as a weapon of war : Britain and the shaping of the national morale in the Second World War
The Blitz : London then & now
We remember the Blitz
Café de Paris
The longest night
Whistling in the Dark: Memory and Culture in Wartime
The Blitz : Westminster at war
The longest night : voices from the London Blitz
TRIPLEX : secrets from the Cambridge spies
When I'm researching I'm as contented as these lovely creatures, who live at Jacob's Inn in Wolvercote, where we went for dinner on Saturday night: