It has been delightful to be back in the UK. The weather has been mild (except for an odd incident of sudden hail) and there has been sunshine! We are staying in a little townhouse off Meadow Lane, the ancient pathway from Iffley into Oxford. I love the walk – it is lined now with houses on one side and on the other playing fields or waste land that used to be the treasured water meadows of the medieval farmers. Subject to flooding and therefore impossible to use for building or crops, the fields were common land that would grow lush grass in the summer. So it would be vital for haymaking. The hay would be stored and used to feed the animals over the cold winter.
So whenever I walk the pathway (now shared pedestrian/bicycle/occasional car) I imagine the peasants plodding along with their animals, or knights on horseback.
The townhouse was very useful for us, as it is half-way between Iffley, where our friends live, and Oxford, where the Bodleian Library is located. We spent quite a bit of time in the Upper Reading Room, doing research. It still gives me a thrill to realise that I can order any book ever published in the UK and have it waiting for me within a couple of hours. The Upper Reading Room is up and up and up flights of stairs, past the entrance to the Arts End of the amazing Duke Humphrey's LibraryThis is Duke Humphrey's edifice: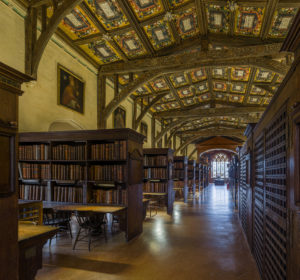 By Diliff – Own work, CC BY-SA 3.0, https://commons.wikimedia.org/w/index.php?curid=38962663
(If you want to know about Duke Humphrey: https://en.wikipedia.org/wiki/Duke_Humfrey's_Library)
The Upper Reading Room is lighter and quieter than the Lower Reading Room (undoubtedly because of the many flights of stairs). It is sobering when one is plodding up the stairs, using the rail to haul weary legs just one more step and a young student trips past, almost running.
The Upper Reading Room is remarkable for the painted freize that runs along the top of the walls. As Wikipedia says:
"The painted frieze at the Bodleian Library, in Oxford, United Kingdom, is a series of 202 portrait heads in what is now the Upper Reading Room. It was made in 1619, and the choice of worthies to include was advanced for its time, featuring Copernicus and Paracelsus as well as Protestant reformers.[1] The portraits have been attributed to the London guild painter Thomas Knight; they were taken from at least ten different sources, according to current views.[2] The frieze was painted directly onto stonework (rather than by fresco technique), and its condition deteriorated despite restoration in the 18th century. It was plastered over in 1830, and rediscovered in 1949."
We are willing to overlook the climb because it is so delightful to look out over the spires of Oxford from that height.
But of course, the main purpose of the trip was my book launch, which was to take place at Waterstones in Oxford on 2 March. This is the impressive Waterstones.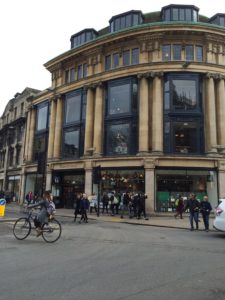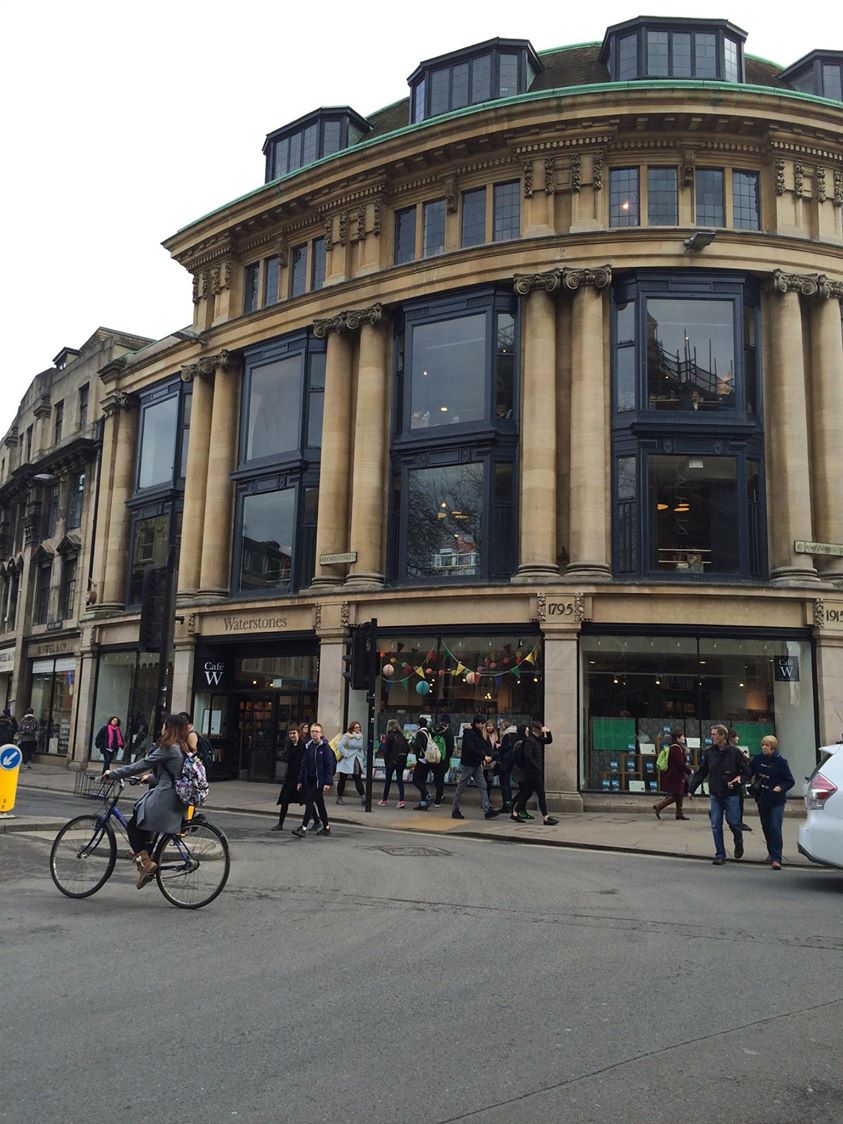 Ambulance Girls came out in paperback on 23 February and my new publishers, Ebury Press, have been working overtime to publicise me. A 'blog tour' was arranged for the week of publication: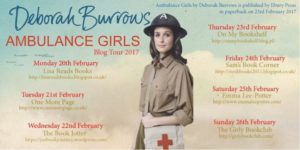 Then, on Sunday 19 March my first ever short story was published in Love Sunday, the colour supplement to the Sunday People newspaper (the Daily Mail Sunday newspaper).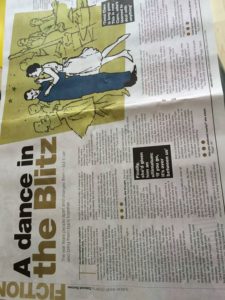 It was very exciting for me, although an unpaid gig.
The following day we went off to London for the day, for me to get a feel for the old place, as I'm writing Ambulance Girls Under Fire (#2). We also visited the marvellous Wallace Collection and in the evening went to the Apollo Theatre to see Tom Stoppard's Travesties. I love the fact that great theatre is so available in London: http://www.officialtheatre.com/apollo-theatre/travesties/
My first blog review was also a great start to the week: http://lisareadsbooks.blogspot.co.uk/2017/02/ambulance-girls-blog-tour.html
And then on Tuesday: http://www.onemorepage.co.uk/?p=20174
And Wednesday: https://josbookjourney.wordpress.com/
On Thursday the book was out. My lovely publishers sent me a gorgeous bunch of flowers and I felt suitably indulged.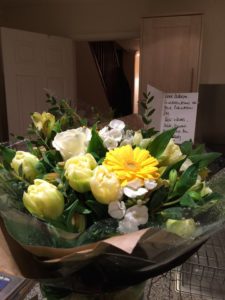 We went back into London that day, as I had agreed to give a talk to a group of creative fiction and publishing students at the City University. (Another author had been booked, but had pulled out suddenly and I agreed to take it on.) Actually, it was very enjoyable.
In Oxford the following day I had the joy of seeing Ambulance Girls in the shops. Well, in WH Smith. May it sell a bomb!!!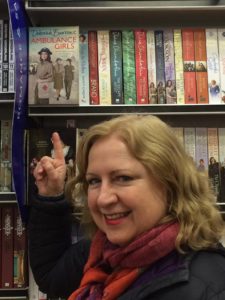 Another lovely book review came in on Saturday: http://www.emmaleepotter.com/blog/book-review-ambulance-girls-by-deborah-burrows/
And the final blog tour review was on Sunday and it was terrific: http://girlybookclub.com/ambulance-girls-by-deborah-burrows-review-by-rayissa-palmer/
I was watching Ambulance Girls Amazon.co.uk and on 27 Feburary I was in the top 100 for war books! and no.7 in medical books. My book sat just above "Baby Twins to Bind Them":
"The ultimate baby bombshell!
For delicious Dr Guy Steele, life is all about the flirting and never about forever! It's the only way to avoid discussing the painful issue of his infertility. So a fling with Candy Anastasi, the sexiest nurse in the hospital, is the perfect solution…right?"
Still, I think that #3,919 Paid in Kindle Store was ok – considering the population of the UK. Amazon ratings are rather addictive and they change constantly. Delicious Dr Guy Smith was nowhere to be seen the next day.
On 1 March it looked like this:

The Vets at Hope Green (a bargain at £1.99 ) had a stranglehold on #1, 2, 3 and 5 in Medical, with a surprise entry at #4: "Obsession: A shocking psychological thriller where love affairs turn deadly"; 'A compelling psychosexual thriller, with some very dark undertones.'
I'm still not sure where the medical bits come in to Obsession, but whoo whee, how could the mere Blitz compete?
And then it was launch day!! And it was a lovely evening. So many of my Oxford friends came, and John and Rosemary Payne even made the trek from 'the other place' (Cambridge).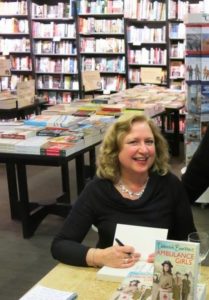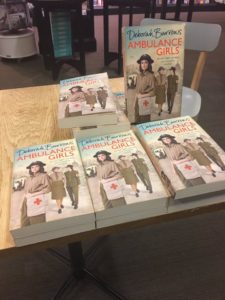 So now it's up to my baby to fly! It is released in Australia by Penguin Random House on 22 March. So look out for it on the shelves 🙂