In Flanders fields the poppies blow
Between the crosses, row on row,
That mark our place; and in the sky
The larks, still bravely singing, fly
Scarce heard amid the guns below.
We are the Dead. Short days ago
We lived, felt dawn, saw sunset glow,
Loved and were loved, and now we lie
In Flanders fields.
Take up our quarrel with the foe:
To you from failing hands we throw
The torch; be yours to hold it high.
If ye break faith with us who die
We shall not sleep, though poppies grow
In Flanders fields.
by John McCrae, May 1915
World War I has been on everybody's minds here as the centenary of the start of that terrible war came closer. Toby and I were in America on Remembrance Sunday (and I'll talk about that trip in another post) and we returned on Monday 10 November after an overnight flight in which I got no sleep. Because of that I slept in on Tuesday 11 November, until 11.00am. So I suppose I kept a minute's silence, but it wasn't what I'd wanted to do. I usually try to spend the minute remembering the dead, and the survivors, of that war.
The British seem to view Armistice Day the way we in Australia view Anzac Day. Newsreaders, politicians, celebrities have all been wearing poppies on their jackets and dresses for weeks leading up to the day. And poppies are such a wonderful image of death and of beauty. They grow wild in the fields here in England, too, and whenever I see them I think of the first stanzas of McCrae's poem. Like too many others, John McCrae didn't survive the war.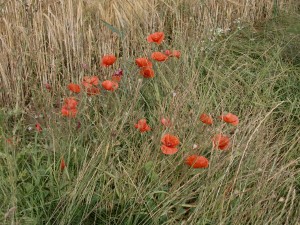 The story behind the poppies as an enduring symbol of WW1 is interesting. The Flanders poppy is a weed that thrives best in soil that has been disturbed, and there is little more disturbed than a battlefield. Between 1914 and 1918, Flanders became one of the most devastated regions of the entire battlefield. Yet many soldiers noticed, in Flanders and in other regions of the front, that poppies grew, and the flowers added a haunting dash of colour to the trenches. The poets among the soldiers wrote about the splashes of red, like blood, that had sprung up in the devastated ground where men had fallen.
One of the most amazing commemorations of the centenary of the outbreak of WW1 is the installation at the Tower of London, "Blood Swept Lands and Seas of Red." It uses the poppy image to create an extraordinary and intensely moving memorial to the British and Commonwealth war dead of WW1. 888,246 ceramic poppies have been planted in the Tower's moat, each poppy representing a British and Commonwealth military fatality during WW1. They spill down from the tower like soldiers going 'over the top' and they fill the moat with a luminous red. The last ceramic poppies were 'planted' on 11 November, Armistice Day. It is an ephemeral exhibition and today, on 12 November, it will begin to be dismantled.
These are photos I took when we went to the exhibition on 27 October. It was incomplete, but still amazing: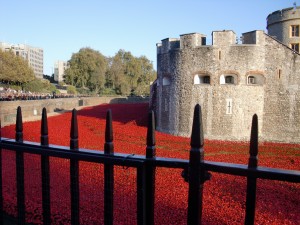 It is estimated that more than four million people have visited the Tower to view the poppies. Certainly, when Toby and I went, the sheer numbers of people around us were staggering. And, from their accents, it was not tourists but mainly Brits who had come to see this very moving commemoration.
The title of the poppy installation is not from John McCrae's poem, but from the first line of a poem written by an unknown soldier who is believed to have perished in Flanders:
The blood swept lands and seas of red
Where angels dare to tread.
I've pinched this photo from Michael Vaughn's facebook page. It shows the moat filled with the poppies on 11 November.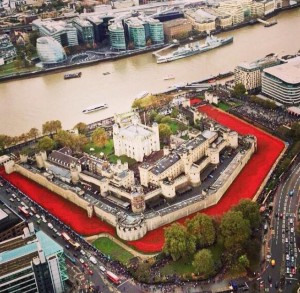 The ceramic poppies are, as I write, being taken down by 8,000 volunteers to be cleaned and sent out to people who have bought them.
We bought 3, to represent the 3 members of our families who fell in the Great War. Reginald Benton of the Lancashire Fusiliers was Toby's father's mother's older brother; he died on the Western Front in 1916. Sergeant Clegg, Toby's uncle by marriage, was part of the British forces at Gallipoli and died in August 1915.
The third poppy is for my great-uncle, George Douglas Eastwood, who was my mother's father's younger brother. Like my grandfather, he was English, but joined the AIF in Sydney as he was on holiday in Australia when war broke out. He fell at Gallipoli, fighting with the Anzacs.
Name: George Douglas Eastwood
Service Number: 280
Rank: Private
Unit: 18th Australian Infantry Battalion
Date of death: 27 August 1915
Place of death: Gallipoli, Ottoman Empire
Cause of death: Killed in action
Age at death: 26
Place of association: Sydney, Australia
Cemetery or memorial details: Hill 60 Cemetery, Gallipoli Peninsula, Canakkale Province, Turkey
Source: AWM145 Roll of Honour cards, 1914-1918 War, Army
Some people have denigrated the poppy installation as being too pretty and as glorifying war, but from the conversations I heard around me when we visited, people 'got' what it was supposed to mean.
'Each of those flowers represents one life,' a man standing near me told his son, who looked to be around ten. 'Look how many there are. Just think about that, each one represents one life. Now, you remember this. It's very special.'
And it is very special. Importantly, all you can do is look and try to envision each poppy representing an individual with a life and a unique story. In many ways, it's a lonely exhibition because of the anonymity of the flowers. There are no names for those the poppies represent – the emotive power comes from the sheer enormity of the numbers of flowers. So we, and the people around us stood, and looked, and pondered, many out loud, about the terrible cost of war. And there were many comments about how little we have learned since then.
The poppies represent only the British and Commonwealth soldiers who died in World War 1. If we planted a poppy for every life lost in that war, the tide of red would flow out of the moat and along the streets of London for miles, because the total number of deaths in World War 1 includes about 10 million military personnel and about 7 million civilians.
One British actress has suggested that the installation is too beautiful and the entire display should be wrecked. She'd like a tank to mow down the poppies and leave them 'shattered and broken like the bodies of the guys that died.'
I disagree strongly. Why kill them over again? No-one who fought in that war is alive now – all the soldiers have died, together with most of the civilians who saw the carnage. Leave the dead in peace. The poppies will be removed and the moat will fill with grass again, just like the grass covers Flanders fields each year, when the poppies cease to bloom.
One of my favourite 'war' poems is this one by Carl Sandberg:
Pile the bodies high at Austerlitz and Waterloo.
Shovel them under and let me work—
I am the grass; I cover all.
And pile them high at Gettysburg
And pile them high at Ypres and Verdun.
Shovel them under and let me work.
Two years, ten years, and passengers ask the conductor:
What place is this?
Where are we now?
I am the grass.
Let me work.