It's beginning to get very chilly over here. At present (9.00am) it's -2C, and we're expecting a maximum of a balmy 6C. So my mind wanders back to happy times when it was still quite warm. In keeping with the rest of our poor earth, England had a very warm Autumn, and in October we took advantage of that to spend a lovely long weekend in London.
It's about an hour and a half by bus from Oxford to London. Toby goes up to Town for the day about once a week, for his project. Sometime I join him, but it means keeping a watchful eye on the time and getting home very late indeed if we want to see a show.
So, in late October we took a holiday apartment near the Barbican for three nights. We'd booked to see Electra at the Old Vic on the Friday night and a concert at the Southbank Centre on the Sunday night. It was a marvellous long weekend in glorious London, despite me being rather ill with a chest infection/asthma.
Electra was excellent. A practically bare stage brought alive by wonderful actors, including Kristin Scott Thomas in the title role. The Telegraph described it as a 'a kill-for-a-ticket triumph'. It's a lot like Hamlet in story, only Electra is no princely Danish vacillator. She knows exactly what she wants – gruesome revenge visited upon her stepfather and mother for her father's murder – and she succeeds in grisly fashion. Scott Thomas puts all of her undoubted talent into this tough, harrowing story of a daughter seeking vengeance.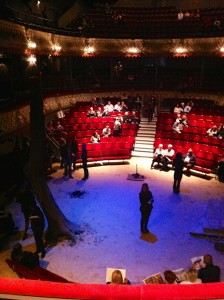 And it was a delight simply to see a show in the Old Vic, which is located just south-east of Waterloo Station. It dates from 1818 and now sits alone in a busy intersection.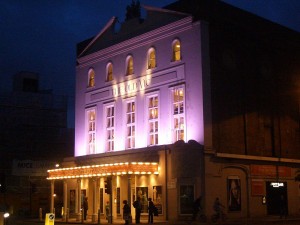 I'd said to Toby a while ago that I'd never been to Hampstead, and he'd read about an amazing set of flats called the Isokon Building that he thought we should see, so on the Saturday morning we took the bus out to Hampstead.
The Isokon Gallery is an exhibition in those modernist flats. The building was an important hub for those in the Bauhaus movement after they had been forced to leave Nazi controlled Europe. At Isokon they found refuge and means to survive. It was very modest but it meant life for them:
http://www.skandium.com/blog/archives/2518
It's an amazing building with very pure lines: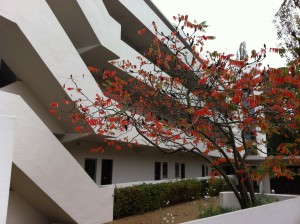 The building was a haunt of Soviet spies. Interestingly, Agatha Christie lived there for some years in the Second World War. What is fascinating is that in 1941 she published her only spy novel, when she was living in one of the flats. Even more creepy is that in that novel – N or M? – one of the characters is called Major Bletchley. This at a time when Bletchley Park was the most secret place in Britain, as it was where the codebreakers were hard at work trying to decipher Enigma.
Writers pick up character names from anywhere they can. I read once, that in one of her books, Christie chose the names from a nearby graveyard. Names for characters are really hard to find; they have to fit the story and be memorable but not sound out of place. Had she overheard something in the flats, and as a result, had the name Betchley slipped into the 'leaf mould of her mind' to be resurrected as the name of a character in her new novel?
The blurb for N or M? is:
"The final words of a dying man … the code names of Hitler's most dangerous agents …the elusive clue that sends that elegant detective team, Tommy and Tuppence Beresford, to a fashionable seaside resort on a mission of wartime intelligence. But not as husband and wife. As strangers, meeting by chance, setting an elaborate trap for an elusive killer."
Then we wandered along to Hampstead Heath, that ancient London park (first recorded in 986). It amazes me that London has such enormous green spaces; Hamptstead Heath is only 6 km from Trafalgar Square, but it is a different world entirely: forested and rambling and hilly and utterly apart from the bustle of the city centre.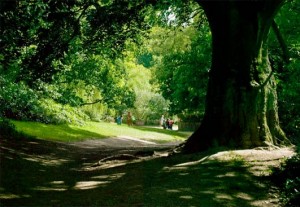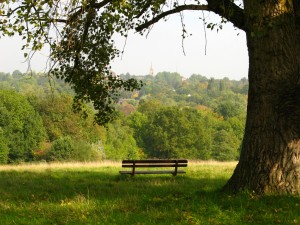 We wandered through the parkland past the Hampstead Ponds, three ponds in the Heath's south-west corner. One of these is the 'mixed pond', where both sexes may swim, although we didn't see anyone brave enough to try on that chilly morning.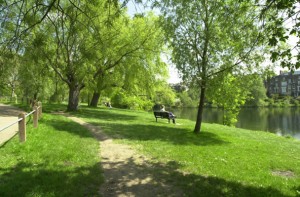 I must admit that we got a bit lost in the wilds of Hampstead, but it gave me some indication of when the Heath was a dangerous place, full of footpads and highwaymen. Nowadays, on a fine(ish) Saturday morning, the heath is green and full of Londoners exercising their dogs. Toby swears he had a 'celebrity spotting' – of the man who plays Robbie in Taggart. I was away in my mind, imagining the Heath 200 years ago, and didn't see him to verify the spotting.
Eventually we found our destination: Kenwood House.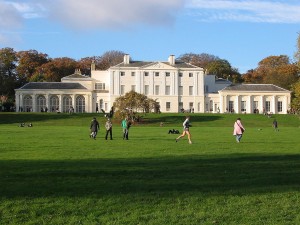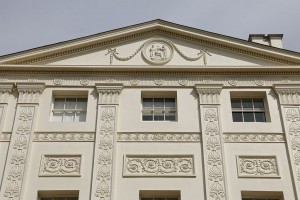 It was of interest to me as a lawyer, as its most famous owner was the Chief Justice, Lord Mansfield, who bought it in 1754 and commissioned Robert Adam to remodel it from 1764–1779. Adam added the library, which is one of his most famous interiors: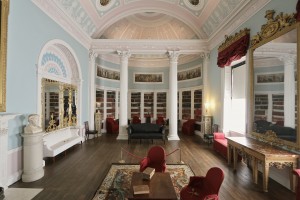 Lord Iveagh, a wealthy Anglo-Irish businessman and philanthropist (fromthe Guinness family), bought the house from the Mansfield family in 1925. He left it to the nation upon his death in 1927 and it was opened to the public in 1928. The furnishings had already been sold by then, but some furniture has since been bought back, and the house has just reopened after major refurbishment. It is really lovely inside:
And it is full of priceless paintings from Lord Iveagh's collection. We had lunch in the former stables and spent a few hours wandering around the house and admiring the paintings. This an Underground poster of it from the 1930s: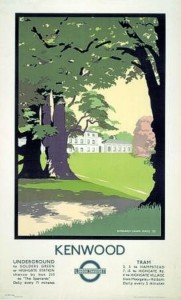 After tea in a pretty cafe, and stopping off to buy me a pretty pink coat, we went along to Keats' house located, not surprisingly, in Keats Grove. John Keats lodged there with his friend Charles Brown from December 1818 to September 1820. These were perhaps Keats's most productive years, and according to Brown, "Ode to a Nightingale" was written under a plum tree in the garden.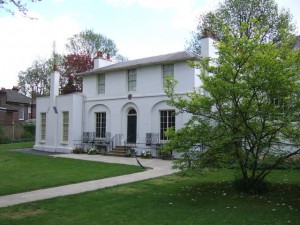 It is now a museum, with the rooms restored to some semblance of how they'd have been in Keats' time: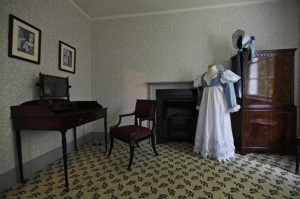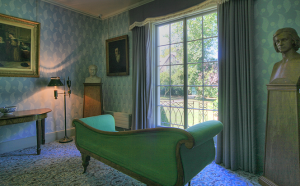 Here I am at the doorway: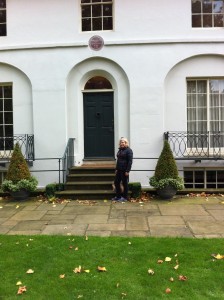 And here is Toby, round the back: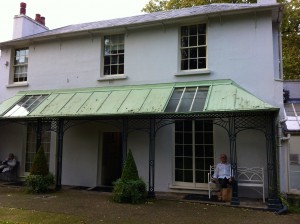 On the bus on the way back to the Barbican we saw a sign for the Grand Union Canal, and as we'd never been there, we got off our bus and went for a wander along the canal, into Little Venice and beyond.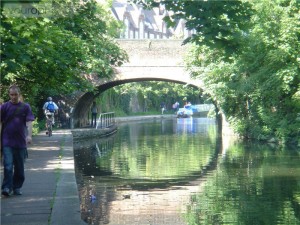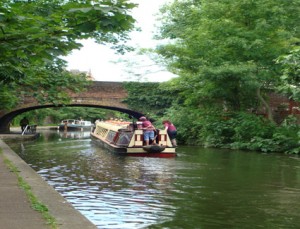 On Sunday morning we attended the sung eucharist at St Paul's Cathedral, which was within walking distance of our apartment. It was beautiful and moving, in a sublime setting.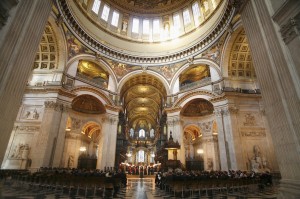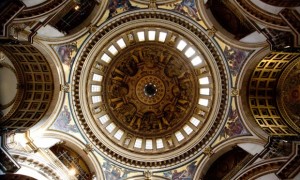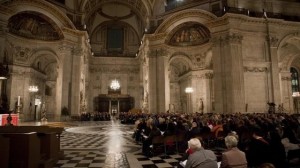 After the service, I was inclined to look around. We saw a sign leading to the vaults, an open doorway and interesting looking stairs. So I charged on downwards with Toby behind me. 'This isn't open,' said a voice as we started to explore the subterranean areas. A verger in a black cassock had run to catch us up. We said our apologies, and he relaxed and said he'd take us through the vaults to the exit. As we were walking, discussing cricket, as this was his main interest in Australia, a door opened, and he asked us to stand back. Out poured the boys' choir, now dressed in 'civvies'. They'd sung like angels upstairs and were now jostling and chattering and acting like entirely normal, lively, mischievous little boys.
We lunched in the Cathedral cafe, and then we went for a walk around Bloomsbury, where my next novel is set. I wanted to walk the streets my heroine walked and see the area where she lives. I'd put her into a flat in a lovely Art Deco apartment block in Grays Inn Road, called Trinity Court. So we wandered from where her Ambulance station was located in 1940 – on the corner of Woburn Place, past Russell Square Gardens, up Guildford Street, past Corams Fields, to turn into Grays Inn Road. And there, towering over the Georgian houses around in stark white Art Deco magnificence was Trinity Court.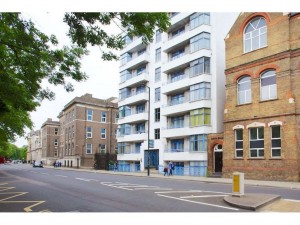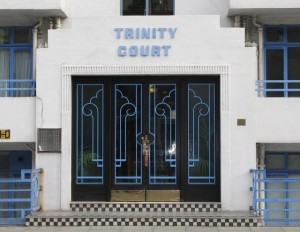 It sits on the site of an old church, St Andrews, which was demolished in the 1870s. The church's graveyard is now a park behind the flats, St Andrews Gardens: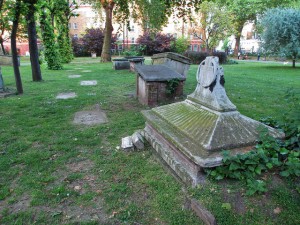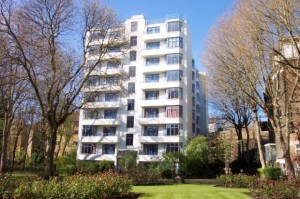 Even better, when I poked my head into the lobby, a voice sung out from the basement (caretaker's) flat. 'What do you want?' I replied, 'Oh, we were just having a look around. It's such a lovely building.' His reply, 'Look all you like. Take the lift if you want.'
And we did! It still has it's 1930s cage lift and we rode it to the top and wandered around the hallways.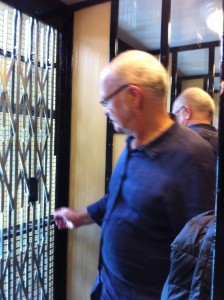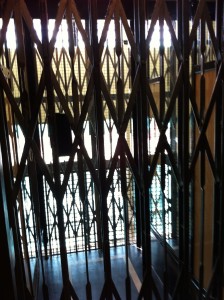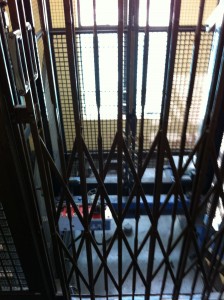 How amazing is that!! Now I have a real feel for where Lily is living. And we also wandered along Piccadilly, as Lily has dinner at The Ritz and sees out an air raid in the luxurious security of that hotel.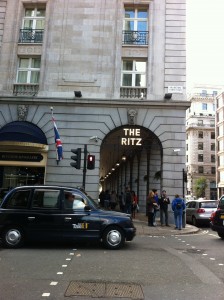 That evening we took the bus to Southbank and ate chicken burritos from the Mexican Street Kitchen while sitting in deckchairs and watching the lights over the Thames.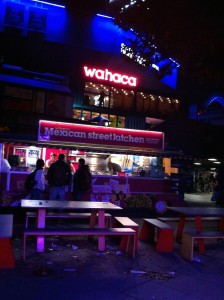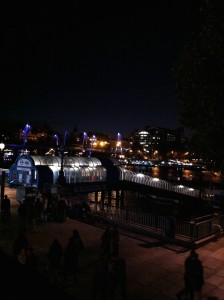 We were at Southbank because we'd booked to see the Smoke Fairies and Leisure Society in concert at the Queen Elizabeth Hall. It was a really fun concert and we had a great time.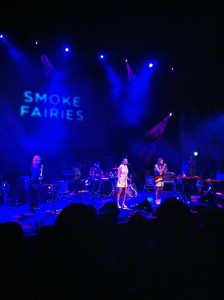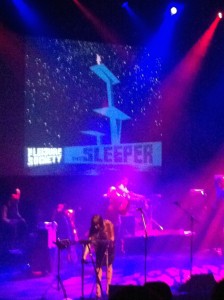 Back to Oxford the next day, but not to rest. To top it all off, on Monday night in Oxford, we went by invitation to the chapel of All Souls College to hear poetry and early music in amazing surroundings.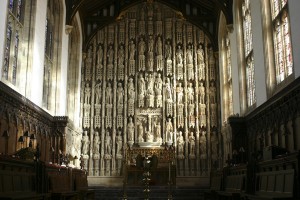 Just a usual long weekend over here…